AXEL Donnevara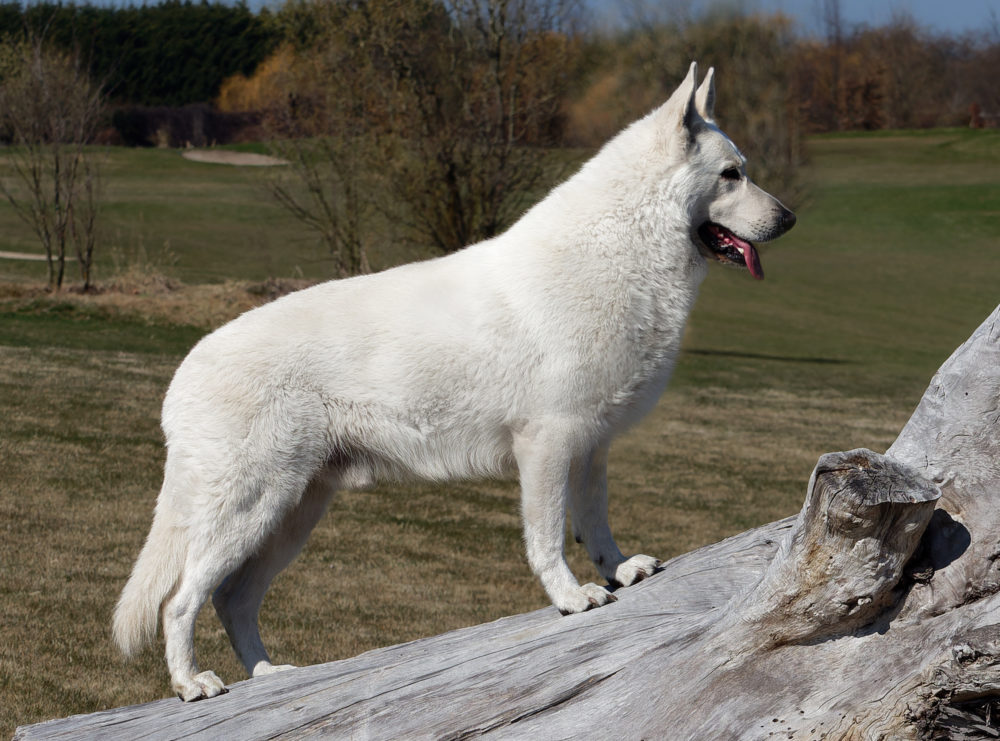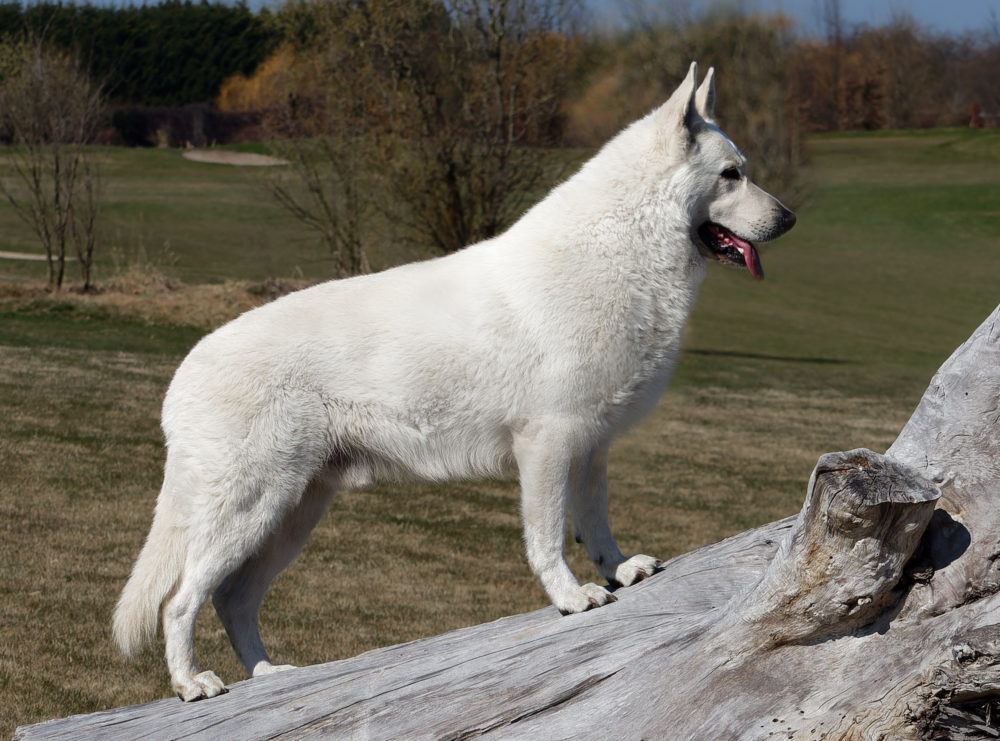 Interchampion / Multi Grandchampion AXEL Donnevara is a perspective healthy White Swiss Shepherd with excellent pedigree, exterior and character. He was born on 18.1.2016 in Donnevara kennel in the litter A2. Both parents are very successful showdogs, Czech grand champions and champions, club champions and a lot more. Father BARNET is also an active canistherapeutic dog and takes part in working exams and competitions. He has passed more than 10 exams so far, such as IPO 3, ZVV1, ZZO 1, SPr3 and other.
AXEL is very active, he loves balls, baloons, sticks, cones and just anything he can chase. So we always train obedience with a ball. e is very active, we regularly go jogging, cycling, swimming, and most of all he loves fetching balls, sticks and cones. It seems he never gets tired. From dog sports, we do canicross, bikejöring and dog-scootering, modern dog sports in harness, which we all enjoy a lot. When we take out the harness at home, Axel leaps in joy uncontrolleably, he looks so much forward to it. We regularly take part in canicross races and obstacle races. Axel won some great placements. At the Mud Dog Race 2019 he finished 1st and at Experience Run 2020 he was 2nd, Extreme dog race 2021 – night + day run 2x 2nd in his cathegory, Wild Grizzly race 2021 – 2nd+3rd. Winter dog game 2022 2nd, Wild Grizzly 2022 – couples cathegory 1st. For his lifelong achievements he was granted the title Master Of Endurance Sports. He also passed the endurance test at the age of almost 7.
In character he is very friendly, open and ballanced. He doesn't mind strangers. He is fearless and very self-confident.
As for the exterior, he is a dog with strong skeletton, strong masculine expression, very good pigmentation, he has well formed legs with correct angulation and nice elegant movement. In quite a short period of time he achieved a lot of successes in shows and we can be proud of all his titles and awards. He achieved the highest possible show title "C.I.B. – Interchampion" at the age of only 2 years and 5 months. He is a champion and junior champion of many countries. In the yearlong competition for the best show dog in the Czech Republic season 2016/2017, he finished 3rd, in 2018 4th and in 2019 again 3rd among all WSS in the Czech club (if points from abroad counted too he would win). In the yearlong Open Slovakia Dog Cup 2017 he ended on a lovely second place from all WSS exhibited in Slovakia that year.
He has the best possible health results. Apart from the compulsory health tests, we had him tested for many other genetic diseases, all of them with negative result. He is FCI stud dog. He fulfilled the conditions for a stud dog even in other countries, not only CZ. His blood sample has been tested for DNA and is stored at the clinic for reproduction in Switzerland.
Axel is the father of 12 litters (in the Czech Republic, Poland, Germany and Switzerland), 87 puppies altogether, he is also the grandfather of several puppies already. He is a very reliable stud he is very strong and knows how to mate a female in a few minutes. Axel is available as stud, natural mating (frozen semen not yet available). Czech females 3 times per year, for foreign females the number is not limited. The stud fee is 1.000,- Eur. In case of a small litter, we can offer a discount or repeated mating.
For more information about Axel or the possibility of mating, please do not hesitate to contact us.
His pedigree on pedigreedatabase here.
Titles
C.I.B. - Interchampion
Grand Champion of Czech Republic
Grand Champion of Slovakia
Grand Champion of Montenegro
Champion of Czech Republic
Champion of Slovakia
Champion of Lithuania
Champion of Bosnia and Herzegovina
Champion of Croatia
Champion of Serbia
Champion of Montenegro
Junior champion CZ
Junior champion SK
Club grand champion
Club champion
Master of Endurance Sports
Endurance test
Canicross and OCR medalist
Best show dog in CZ - 3rd place (2016)
Open Slovakia Dog Cup 2017 - 2. place
National winner
Regional winner
Winner of Mladá Boleslav
Youth national winner SK
BIS 3
BIG 1
BOB
BOS
CACIB
res. CACIB
multi CAC/CWC
multi CAJC
Pedigree
Grand Champion CZ, Champion CZ, Champion ČMKU, Club Champion, Winner of specialty show, Regional winner, multi BOS/CACIB/CAC/CAJC...

BARNET Abraska

res. CAC

Blesk od Kunovského lesa

CH

Falco of Kim's dream

Quanto of White Mountain Austria

Beauty White Majestics

REGIONAL WIN., R.CAC

ADRIANA u Panáka

Falco z Vrchánova

CAC

Heathy od Liškutínky

Nejl.mladý plemene, CAJC, Výborná, Velmi nadějná

Bepcock Nubika

BOB, CAC, CAJC

Cleo z Nuslaudy

Majestics Fill White

CL WINNER,CLUBCH,BOB

Filadelfia Rain Miraja

CH(CZ)CACIB,BOB

Julie Nycol Elbigi

CAC, RES.CAC

DEXTER Fillův dvůr

CH(CZ)CACIB,BOB

Beata Lucky Elbigi

Grand Ch CZ, Ch. CZ+SK, Club Ch., National winner

XARRIA JACKIE Donnevara

CH+JCH CZ,SK

Ares z Nového Malína

Cino Giacomo Elbigi

CZ CH,KL CH

Persano Restinga Nivalis

CZCH,BIG,BOB

Beki z Vrchanova CS

Alexis of White Glory

Shadowvalley's Loftboy of USA

Conny White Majestics

Český junior šampion, Nejl.mladý plemene, Nejlepší mladá fena, Výborná, Velmi nadějná, Český šampion, Champion Slovenska, 2x Res.CACIB, CAC ČMKU, BOB, Klubový champion, 2x CACIB

Nataly Cheryl Donnevara

Český šampion, Champion Polska, Klubový champion, Klub.champ.Slovenska, 2x Národní vítěz, Vítěz speciální výstavy, 5x Nejlepší pes pl., Champ.ml.Slovenska, Český junior šampion, Grand champ. ČR, Champion Slovenska, 2x Klubový vítěz, 2x Vítěz klub.výst., 9x BOB

Dragon la Blankpapilio

ÖCH,ÖJCH,BOB

Banshee Boy vom Hause Zenz

CZCH,KCH,VCH

Apolena u Panáka

2x Res.CACIB, CAC ČMKU, BOB, Klubový champion, 2x CACIB

Genny Lee Donnevara

CZ CH, CLUB CH

Basko Filluv Dvur

CZ CH

Iwanga Simargl Sambadi Cs