Litter "B"eetles Niktel (CZ)
* 2021-01-15
our own puppies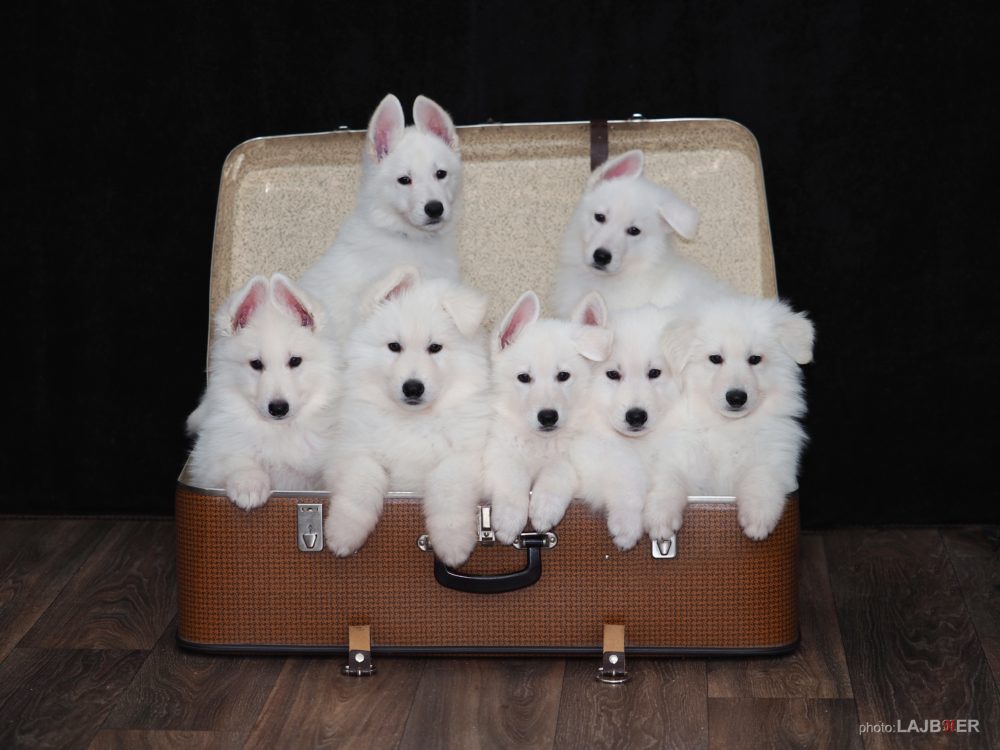 On 15th January 2021 we welcomed our litter B, the "B"eetles. The parents are C.I.B. / Grandchampion Axel Donnevara a Grandchampion / Multi Champion Vendetta Od Bijelih Andela.
Both parents are perfectly healthy, they have the best possible results of all different health tests and checks, they are balanced and well grown. They both have great and successful ancestors in their pedigrees, Axel with pure Czech bloodlines and Vendetta, who was imported from Croatia bears different high quality European bloodlines. They don't have any common ancestry in 5 generations.
They are both very successful show dogs. They took part in many shows throughout their short lives, many judges from the whole world have awarded them excellent awards. As they have great exterior and lovely elegant movement, they were able to reach many national championships, grandshampionships of many countries. Axel has also been granted the highest possible titile in the world – the Interchampion title (C.I.B.), awarded by the International Cynology Union (FCI) located in Belgium.
Axel and Vendetta have a great drive and they are perfect canicrossers. They love running in harness. They like trainings as well as races, of course. They both took part in many canicross, obstacle or bikejöring races. Axel won the Mud Dog Race 2019 and in Experience Run 2020 he finished 2nd in his cathegory. Vendetta won the 3rd place in Experience Run 2020. They are both successful participants of many Hard Dog Races (HDR) – Base and Wild, with great placements round 40th place out of many hundred participants. Running keeps them also perfectly fit. Information, photos, videos and news about our canicross activities can be found on our canicross FB page.
Read more about the parents, their achievements, health tests, including many photos on their personal pages on our website:
Beetles are great dogs now, all of them in their new families all over the world (USA, Belarus, Germany, Poland, Czech Republic). Four of them have already became breeding animals (2 stud males, 2 breeding females). You can read about each Beetle below in their profiles (under the pedigree chart).
All puppies in our kennel always undergo a thorough socialisation programme with many stages. We concentrate on good socialisation of puppies, so that puppies from us come self-confident, socialised and fearless. We start very early, just a few days after birth and continue with socialisation in accordance to the age and level of development of the puppies. Each stage is videoed, you can find all the videos under the button under this text or click on each phase separately, and they are also on our kennel FB page or YT channel.
Beetles have gone through these socialisation stages:
Stage 1: Touching, lifting, handling, opening the mouth, patting, cudling, and getting used to any type of care (since day 1)
Stage 2: Claw trimming and filing (day 10)
Stage 3: Sounds – thunderstorms (14 days)
Stage 4: Toys (3 weeks)
Stage 5: Hanging toys (3,5 weeks)
Stage 6: First porridge (4 weeks)
Stage 7: Dancing with Beetles (loud rock music) 4,5 weeks
Stage 8: Hygiene  (4,5 weeks)
Stage 9: Cuddling with children
Stage 10: Testing and developing drive
Stage 11: A visit to the vet (6 weeks)
Stage 12: Obstacles – tunnels (6 weeks)
Stage 13: First time outside (6,5 weeks)
Stage 14: New play area (6,5 weeks)
Stage 15: Crate training (7 weeks)
Stage 16: Dog-friendly office (7 weeks)
Stage 17: Lawn mowing (7,5 weeks)
Stage 18: Volhard puppy aptitude test (7 weeks)
Stage 19: Free running, retrieving, wildlife smells (7,5 weeks)
Stage 20: Visitors (from 6,5 weeks)
Stage 21: BARF (from 4,5 weeks)
Stage 22: Scary things (from 6 weeks)
Stage 23: Waiting outside a shop (10 weeks)
Stage 24: Trip to a public walking path (10 weeks)
Stage 25: Group sit down (10 weeks)
Stage 26: Exploring the city (from 10 weeks)
Stage 27: Meeting cows (11 weeks)
Stage 28: Surfaces (15 weeks)
Stage 29: Walk in the town, train station (15 weeks)
Stage 30: Town park with many sportsmen (15 weeks)
Stage 31: Ignoring the broom (since 12 weeks)
Stage 32: Nosework (since 12 weeks)
Stage 33: Doggy playground (16 weeks)
Pedigree
C.I.B. - Interchampion Grand Champion of Czech Republic Grand Champion of Slovakia Grand Champion of Montenegro Champion of Czech Republic Champion of Slovakia Champion of Lithuania Champion of Bosnia and Herzegovina Champion of Croatia Champion of Serbia Champion of Montenegro Junior champion CZ Junior champion SK Club grand champion Club champion Master of Endurance Sports Endurance test Canicross and OCR medalist Best show dog in CZ - 3rd place (2016) Open Slovakia Dog Cup 2017 - 2. place National winner Regional winner Winner of Mladá Boleslav Youth national winner SK BIS 3 BIG 1 BOB BOS CACIB res. CACIB multi CAC/CWC multi CAJC

Grand Champion CZ, Champion CZ, Champion ČMKU, Club Champion, Winner of specialty show, Regional winner, multi BOS/CACIB/CAC/CAJC...

BARNET Abraska

res. CAC

Blesk od Kunovského lesa

CH

Falco of Kim's dream

REGIONAL WIN., R.CAC

ADRIANA u Panáka

Nejl.mladý plemene, CAJC, Výborná, Velmi nadějná

Bepcock Nubika

BOB, CAC, CAJC

Cleo z Nuslaudy

CH(CZ)CACIB,BOB

Julie Nycol Elbigi

Grand Ch CZ, Ch. CZ+SK, Club Ch., National winner

XARRIA JACKIE Donnevara

CH+JCH CZ,SK

Ares z Nového Malína

Cino Giacomo Elbigi

Alexis of White Glory

Český junior šampion, Nejl.mladý plemene, Nejlepší mladá fena, Výborná, Velmi nadějná, Český šampion, Champion Slovenska, 2x Res.CACIB, CAC ČMKU, BOB, Klubový champion, 2x CACIB

Nataly Cheryl Donnevara

Český šampion, Champion Polska, Klubový champion, Klub.champ.Slovenska, 2x Národní vítěz, Vítěz speciální výstavy, 5x Nejlepší pes pl., Champ.ml.Slovenska, Český junior šampion, Grand champ. ČR, Champion Slovenska, 2x Klubový vítěz, 2x Vítěz klub.výst., 9x BOB

Dragon la Blankpapilio

2x Res.CACIB, CAC ČMKU, BOB, Klubový champion, 2x CACIB

Genny Lee Donnevara

C.I.B. - Interchampion FCI Club Grand Champion CZ Grand Champion SK Grand Champion MNE Champion CZ Champion SK Champion HU Champion MNE Club Champion CZ Junior Champion SK Junior Champion LT Slovak puppy champion Elite puppy winner SK 2019 BOS CACIB Junior BOB multi CAC/CAJC Excellent 1 / Very promising 1 Master of endurance sports Winner of HDR Not Just Run junior 2021 WSS Champion of canicross 2022 2nd place Břežanská stopa race 2022 Endurance test passed

Inter Champion, Champion of France, IPO 1, IPO V, TAN, TAT, CSAU

Ice Echo du Bois des Ternes

Multi Champion, TAN

Echo du Bois des Ternes

Champion, Nord JW 05, Fin Winner 06

Snamerto Snaomner

Dakota Van Hiemrod

Horsebo Empire

Champion DK, European Winner 04, NorduCh

Nice Of You To Come Bye Mojo

Champion DK, European Winner 04, NorduCh

Enjoy Of White Sunshine

Junior Champion of Slovenia, Karavanka winner 2017, Champion of BiH, Champion of Federation BiH, Champion of Slovenia, BIS

Naomi od Bijelih Andela

Inter Champion, Multi Champion

Yole vom Sutumer Grund

Multi Champion, TAN, CSAU, TST

I Love Boy P'tits Loups d'Amour

Only You vom Sutumer Grund

Junior Champion, Champion

Azra Zora vom Sutumer Grund

Multi Champion (DJ, D, DK), BH/VT

Vin Diesel of Haely's Future

Maybe Magic Lou vom Sutumer Grund
Puppies