VENDETTA od Bijelih Andela
* 2018-07-24
breeding female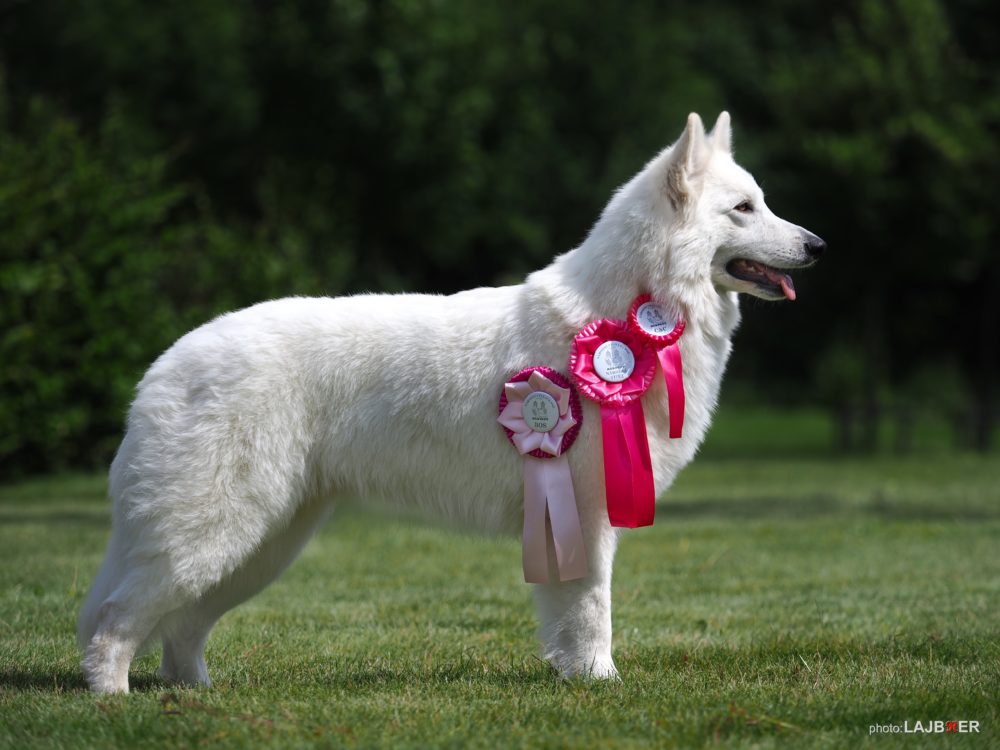 Another member of our pack is a lovely female from Croatia, born in July 2018. She is very active, not afraid of anything and very easy-going, but also very watchfull. Her light skeletton is very well built, she has very dark pigmentation, long straight legs, elegant movement and a very noble head with shorter ears, all in all she is a very wolf-like dog. She has her hair as white as snow, without any signs of yellow, she is the whitest dog we have ever had here. Her pedigree includes ancestors, who were very show or work successful from all Europe.  This altogether predetermined her show career. She has already collected the necessary points to gain the title of the Czech Club Grand Champion and she became the national champion of several countries and has also been awarded the highest possible show title in the world granted by the international cynology federation FCI – the title of Interchampion C.I.B..
She has a big heart and she loves doing anything together with her pack. She is very competitive so she is a great canicrosser and loves dogscootering. She isn't afraid of any kind of obstacles, whether in an obstacle race or at a training ground. She is a great companion for anything. She took part in many canicross and obstacle races and collected many medals from these. One of her greatest successes was 1st place in the HDR Not Just Run race in Hungary 2021. Later she won in the historically first Championship for WSS in canicross and therefore became the WSS Champion in canicross 2022. For her lifelong achievements in running she was granted the title Master of endurance sports. In 2022 she also passed the endurance test (20 km run + obedience test). She also took part in extremely hard mountain races, such as the 4-course race Dog Epic 2021 and Ještěd Skyrace half-marathon in 2023. She is very fit.
In September 2020 she passed her breeding test successfully – she has full dentition, scissor bite, height 61 cm and great assesment of the assessed criteria. She became mother in January 2021 of 7 beautiful Beetles, read more about the litter here. Another litter after her (F) was born in mid March 2022. More information here. And her third litter came in September 2023 – 2 males, 1 female available. More information here.
Vendetta's pedigree on pedigreedatabase here.
Titles
C.I.B. - Interchampion FCI
Club Grand Champion CZ
Grand Champion SK
Grand Champion MNE
Champion CZ
Champion SK
Champion HU
Champion MNE
Club Champion CZ
Junior Champion SK
Junior Champion LT
Slovak puppy champion
Elite puppy winner SK 2019
BOS
CACIB
Junior BOB
multi CAC/CAJC
Excellent 1 / Very promising 1
Master of endurance sports
Winner of HDR Not Just Run junior 2021
WSS Champion of canicross 2022
2nd place Břežanská stopa race 2022
Endurance test passed
Pedigree
Inter Champion, Champion of France, IPO 1, IPO V, TAN, TAT, CSAU

Ice Echo du Bois des Ternes

Multi Champion, TAN

Echo du Bois des Ternes

Champion, Nord JW 05, Fin Winner 06

Snamerto Snaomner

Bridgeview White Tiger

Norsetom Ronomets

Dakota Van Hiemrod

BOB, FrankF03, BH, SCHH3

Domingo vom Sutumer Grund

Umayka van Hiemrod

Horsebo Empire

Champion DK, European Winner 04, NorduCh

Nice Of You To Come Bye Mojo

Nice Loek of the Heart of Lothian

Dolores of Martin's Roseville

Champion DK, European Winner 04, NorduCh

Enjoy Of White Sunshine

Morgan von Diamond

Inka vom Werntal

Junior Champion of Slovenia, Karavanka winner 2017, Champion of BiH, Champion of Federation BiH, Champion of Slovenia, BIS

Naomi od Bijelih Andela

Inter Champion, Multi Champion

Yole vom Sutumer Grund

Multi Champion, TAN, CSAU, TST

I Love Boy P'tits Loups d'Amour

Junior Champion LUX, Champion F, Champion SI, TAN

Big Bad Boy du Bois des Ternes

Belgian Winner 2016, TST, TAN

Amour Shakira of White Energy

Only You vom Sutumer Grund

Multi Champion, SCHH1, VPG1, BH/VT,

Atax-Boss vom Sutumer Grund

Champion D

Perlayne vom Sutumer Grund

Junior Champion, Champion

Azra Zora vom Sutumer Grund

Multi Champion (DJ, D, DK), BH/VT

Vin Diesel of Haely's Future

Champion

Hanan of Skah Dakota

Inshima Honey vom Sutumer Grund

Maybe Magic Lou vom Sutumer Grund

Multi Junior Champion

Kirtonmae Sir Higgins

World Winner 2011, Europe Winner 2011

Aliena White Princess vom Sutumer Grund