VENDETTA od Bijelih Andela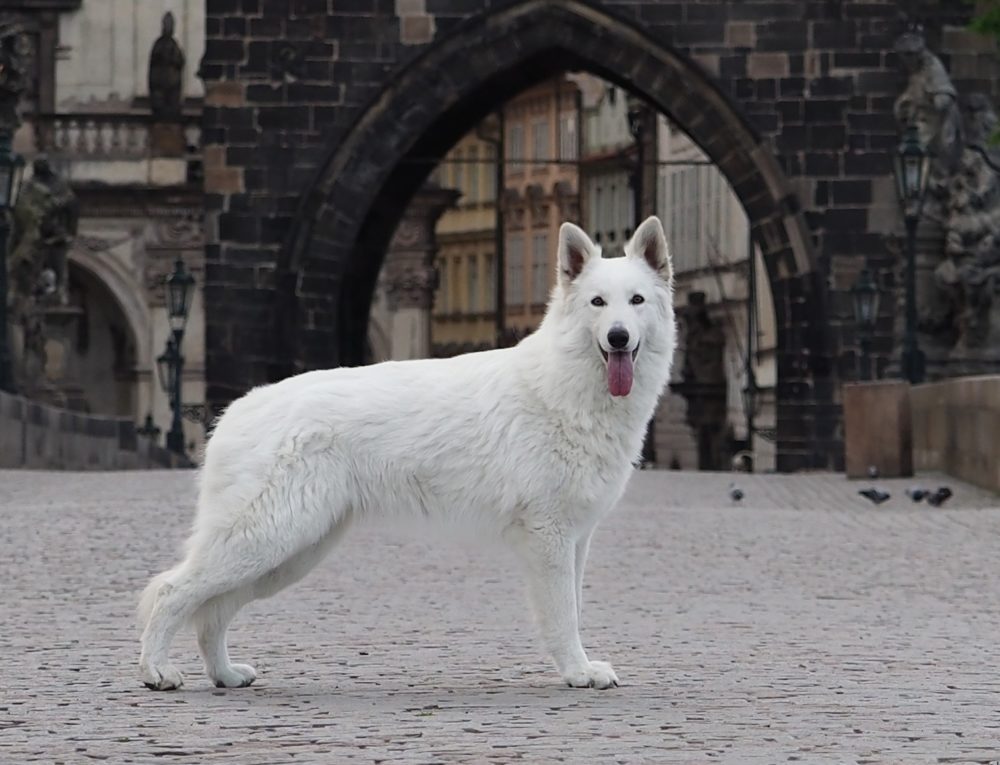 Another member of our pack is a young diminutive female from Croatia, born in July 2018. She is calm, not afraid of anything and very easy-going. Apart from that, she has also very nice build, which altogether predetermines her future show career, which she started in Prague in December 2018, and she was very succesful. In the competition of 3 other females she won her class. She still needs a lot of practice and gaining experience of course. During the first few months she easily collected the necessary points to gain the title of the Czech Club Champion.
Her pedigree includes ancestors, who were very show or work successful from all Europe. We hope, that this female will enrich the Czech breed with her lines and will bring fresh high quality blood to the breed from abroad in the future.
In March 2019 she passed the youth check successfully – she has full dentition, scissor bite, height 56 cm (measured at 8 months) and great assesment of the assessed criteria.
Pedigree on pedigreedatabase here.
Titles
Club champion CZ
Junior Champion SK
Junior Champion LT
Slovak puppy champion
Elite puppy winner
Junior BOB
CAJC
Excellent 1 / Very promising 1
Additional information
| | |
| --- | --- |
| Sex | female |
| Height | 56 cm (at 8 months) |
| Teeth | full dentition, scissor bite |
| HD | A/A |
| ED | 0/0 |
| MDR 1 | +/+ po rodičích |
| DM | n/n po rodičích |
Pedigree
Inter Champion, Champion of France, IPO 1, IPO V, TAN, TAT, CSAU

Ice Echo du Bois des Ternes

Multi Champion, TAN

Echo du Bois des Ternes

Champion, Nord JW 05, Fin Winner 06

Snamerto Snaomner

Bridgeview White Tiger

Norsetom Ronomets

Dakota Van Hiemrod

BOB, FrankF03, BH, SCHH3

Domingo vom Sutumer Grund

Umayka van Hiemrod

Horsebo Empire

Champion DK, European Winner 04, NorduCh

Nice Of You To Come Bye Mojo

Nice Loek of the Heart of Lothian

Dolores of Martin's Roseville

Champion DK, European Winner 04, NorduCh

Enjoy Of White Sunshine

Morgan von Diamond

Inka vom Werntal

Junior Champion of Slovenia, Karavanka winner 2017, Champion of BiH, Champion of Federation BiH, Champion of Slovenia, BIS

Naomi od Bijelih Andela

Inter Champion, Multi Champion

Yole vom Sutumer Grund

Multi Champion, TAN, CSAU, TST

I Love Boy P'tits Loups d'Amour

Junior Champion LUX, Champion F, Champion SI, TAN

Big Bad Boy du Bois des Ternes

Belgian Winner 2016, TST, TAN

Amour Shakira of White Energy

Only You vom Sutumer Grund

Multi Champion, SCHH1, VPG1, BH/VT,

Atax-Boss vom Sutumer Grund

Champion D

Perlayne vom Sutumer Grund

Junior Champion, Champion

Azra Zora vom Sutumer Grund

Multi Champion (DJ, D, DK), BH/VT

Vin Diesel of Haely's Future

Champion

Hanan of Skah Dakota

Champion DK

Inshima Honey vom Sutumer Grund

Maybe Magic Lou vom Sutumer Grund

Multi Junior Champion

Kirtonmae Sir Higgins

World Winner 2011, Europe Winner 2011

Aliena White Princess vom Sutumer Grund