Litter "J"esuses Niktel (CZ)
* 2023-09-08
our own puppies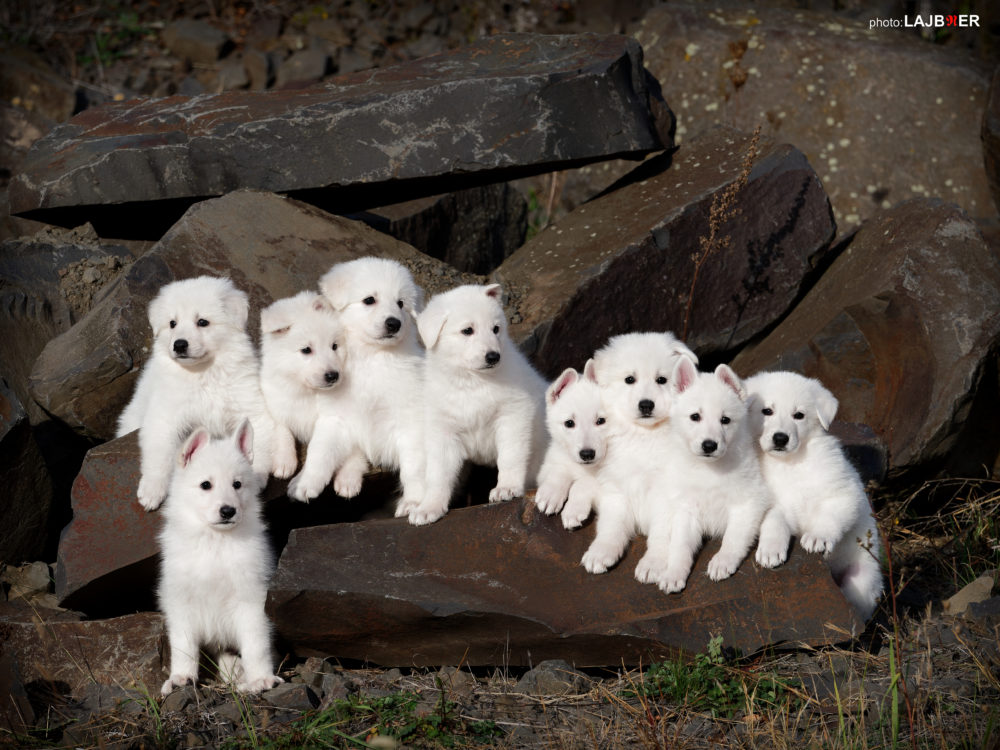 We welcomed litter "J" on the 8th September. J is for "J"esus. There are 9 puppies – 4 males, 5 females. They will be ready to go to the new homes at the beginning of November 2023 (11/3/2023) (to countries which accept puppies without rabies vaccination), or right before Christmas (12/22/2023) to other countries, which require full vaccination. That's why we chose the litter name Jesus.
Some puppies are still available for reservation. We are looking for the best families, active, ideally interested in some dog activities. Both parents are very active, they like to run, walk in the mountains and do various sports, so we will be happy if the puppies have an active life in their new families as well. If you are interested in applying for a puppy from our kennel, please do not hesitate to contact us. Details about the puppies, parents, pedigree, and the usual procedures below. In the photo gallery (button below the text) you will also find a number of photos of the parents.
Parents:
Mother – Vendetta, a sportsdog through and through, she is incredibly competitive and temperament. She loves canicross, dogscootering and obstacle races. She feels great in harness and puts her whole heart into it. We run together regularly at home and at races, so she is in great shape. She completed countless races, including the most difficult ones in our country and abroad – Dog Epic mountain stage race, Ještěd Skyrace mountain half-marathon, and Hard Dog Race several times, Extreme Dog Race and many others. During the race, she has absolutely no problem with mud, water, climbing over, or under obstacles, or even confined spaces, she is not afraid and goes headfirst into everything. She absolutely trusts the person in such situations. She was awarded the title of Master of Endurance Sports for her lifelong achievements in sports. In 2022, she passed an endurance test (20 km run + obedience test). She also has many medal positions in a number of competitions. You can see Vendetta in action on some of her race videos – e.g. SC2 scootering 2022 here, or Dog Epic 2021 here.
At the same time, Vendetta is a very successful show female. She is beauty grand champion, champion and junior champion in many countries, she even achieved the highest show title awarded by the International Cynological Federation in Belgium (FCI) – the title of Interchampion of Beauty (C.I.B.). We imported her from a well-known kennel in Croatia to enrich the Czech breeding with new blood. 
In character she is fearless, self-confident and easy-going, yet alert. She guards her territory very well and in case of any danger, she will not be scared and will bark at an unwanted person. Her body is subtile and very nicely grown, height 61 cm, weight 29 kg. She has strong dark pigmentation, long straight legs and a very fine noble head with smaller wolfy ears. Overall, she looks very similar to a wolf. She has a very white coat without any signs of rust or yellowing.
Thanks to her numerous sports activities, Vendetta enjoys good health and is still in great shape even at 5 years old. Her health tests are all perfect. You can read more about her achievements, awards, health and see lots of photos and videos with her on her personal page here. 
Sire – Navarre, nicknamed "Navi" is a very elegant dog with a sporty look and noble type. He has semi-long hair (also called "short-haired"), but he is also a carrier for long hair, which is why puppies from him can be of both types of hair. He has excellent dark pigmentation all year round – dark lips, eyelids, medium brown eye, also excellent format, perfectly set pointed ears, straight legs and topline, perfect angulation and good tail carriage. He is not too tall – with his 63 cm, he could help war against the frequent problem of white shepherds nowadays which is growing above the defined height boundaries of the breed standard. He has full dentition with scissor bite.
He took part in only a few shows, but he did not do badly at all – he earned an "excellent" award at the club show. In character he is a very balanced, friendly, non-conflicting and easy-going family dog. He loves water, swimming, walking in the mountains and fetching, he is very energetic. He handles long hikes with ease. He is very loyal and sociable, he loves his family above all. He likes to be always close to his family and loves children. He is docile and adaptable.
Navi has undergone a number of health tests beyond the scope of mandatory testing. He is a completely healthy five-year-old dog – joints without signs of dysplasia (HD A, ED 0/0), ears OK – bilateral hearing (BAER +/+), degenerative myelopathy – not affected (DM n/n), multiple drug resistance not affected by parentage (MDR1 +/+).
Puppies:
Puppies should have dispositions for sports, training, possibly also exhibitions and breeding, and of course as ideal active companions for any joint activity with their family. We expect puppies of both coat lengths, long- and semi-long. The puppies will have a very interesting pedigree with bloodlines from all over Europe with a number of very successful and famous ancestors. Link to pedigree in pedigreedatabase here. Puppies will come with an FCI proof of parentage (pedigree) from the Czech-Moravian Kennel Union (ČMKU). They will go to their new homes regularly dewormed, min. 1x vaccinated, chipped, fully socialized, with basic hygiene habits. They will receive from us an international passport (vaccination certificate), a starter package with some equipment and food for the puppy to begin with and a lot of printed information regarding the development so far and advice and recommendations regarding the upbringing and development of the puppy in the future. We take a professional set of photos for each puppy. And last but not least, we guarantee all owners lifelong breeders service.
From the moment when puppies are born, we are in constant contact with the future owners, sending regular photos and videos so that they know how the puppies are doing, what they did that day and how they are growing. Visits of the future owners of the puppies are possible immediately after the first vaccination (for the safety of the puppies), i.e. from approx. 6.5 weeks of age.
We do not require the new owners necessarily to attend exhibitions, races, or breed in the future. If you choose to have your furry friend as a family companion and enjoy other activities together, we will fully respect that. The only thing we expect from future owners is to create a perfect loving home for the puppy with everything that belongs to it.
All our puppies here go through a sophisticated socialization programme with many stages. We pay great attention to socialization and focus on the fact that the puppies leave us perfectly confident, socialized and fearless. We start very early, just a few days after birth, and continue gradually with individual follow-up phases, according to the development of the puppies and in relation to their age. If the puppies stay with us until 8 weeks of age (when they can officially start leaving us), there are about 30 different socialisation stages. If they are to be exported to a country which does not accept puppies before full vaccination (15 weeks), then they have to stay with us longer due to export conditions and regulations of these foreign countries. Then there can be up to 50 socialization stages altogether. We film every part of the socialization process on videos, which we send together with a lot of photos to future owners as part of regular reports, or we publish selected videos on our website, YouTube channel and FB page of our kennel. For a clearer idea of ​​how socialization looks like and what each phase means, you can read about this in the previous litters, and watch the individual published socialization videos – e.g. for litter H here, F here, or litter B here. Alternatively, visit our Youtube channel here, where you can find all our videos (already over 300 different videos) in one place.
Before going to their new homes, our puppies go through a character test (Volhard's puppy aptitude test), where their character traits and assumptions are tested. Based on the results of this test, the plans of the future owners for the puppies and in agreement with them, we select the most suitable puppies for the best families so that they "suit" together as best as possible.
If you have any questions, do not hesitate to contact us.
Early socialisation of Jesuses has begun, they have already:
* trénink všemožné manipulace, zvedání, obracení, otevírání tlamičky…
* mazlení s dětmi
* první česání
* první hračky
* první hlasité zvuky i běžné ruchy domácnosti
* první pobyt v transportním boxu
* první cesta autem
* první návštěva veterináře
* podávání léků
* stěhování z porodní bedny do nového hracího prostoru
Souhrnná videa, zachycující, jak rostou, jak se socializují i prostředí, ve kterém jsou odchovávána zde:
Pedigree
NAVARRE Nubika

LUX WHITE FRIEND z Blatenských luk

INNUENDO of Trebons Berger Blanc

Horsebo U2

DOLCE VITA of Trebons Berger Blanc

GINNA la Blankpapilio

AKHIRO vom Altvilstal

APOLENA u Panáka

GIMMA Nubika

CHIPEWA Taien

Surefire OBI-WAN KINOBI

GARA z Veselé rodiny

CELINA Nubika

ARGO of Barrandov's Alley

JULIE NYCOL Elbigi

C.I.B. - Interchampion FCI Club Grand Champion CZ Grand Champion SK Grand Champion MNE Champion CZ Champion SK Champion HU Champion MNE Club Champion CZ Junior Champion SK Junior Champion LT Slovak puppy champion Elite puppy winner SK 2019 BOS CACIB Junior BOB multi CAC/CAJC Excellent 1 / Very promising 1 Master of endurance sports Winner of HDR Not Just Run junior 2021 WSS Champion of canicross 2022 2nd place Břežanská stopa race 2022 Endurance test passed

Inter Champion, Champion of France, IPO 1, IPO V, TAN, TAT, CSAU

Ice Echo du Bois des Ternes

Multi Champion, TAN

Echo du Bois des Ternes

Champion, Nord JW 05, Fin Winner 06

Snamerto Snaomner

Dakota Van Hiemrod

Horsebo Empire

Champion DK, European Winner 04, NorduCh

Nice Of You To Come Bye Mojo

Champion DK, European Winner 04, NorduCh

Enjoy Of White Sunshine

Junior Champion of Slovenia, Karavanka winner 2017, Champion of BiH, Champion of Federation BiH, Champion of Slovenia, BIS

Naomi od Bijelih Andela

Inter Champion, Multi Champion

Yole vom Sutumer Grund

Multi Champion, TAN, CSAU, TST

I Love Boy P'tits Loups d'Amour

Only You vom Sutumer Grund

Junior Champion, Champion

Azra Zora vom Sutumer Grund

Multi Champion (DJ, D, DK), BH/VT

Vin Diesel of Haely's Future

Maybe Magic Lou vom Sutumer Grund