Litter "F" Niktel (CZ)
* Spring 2022
our own puppies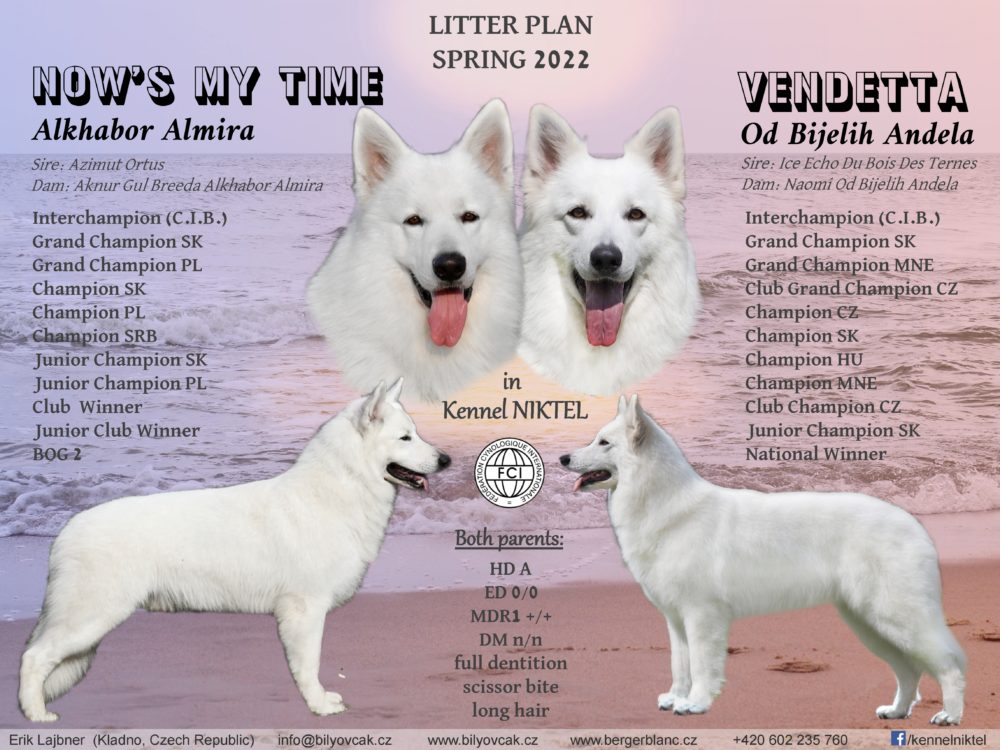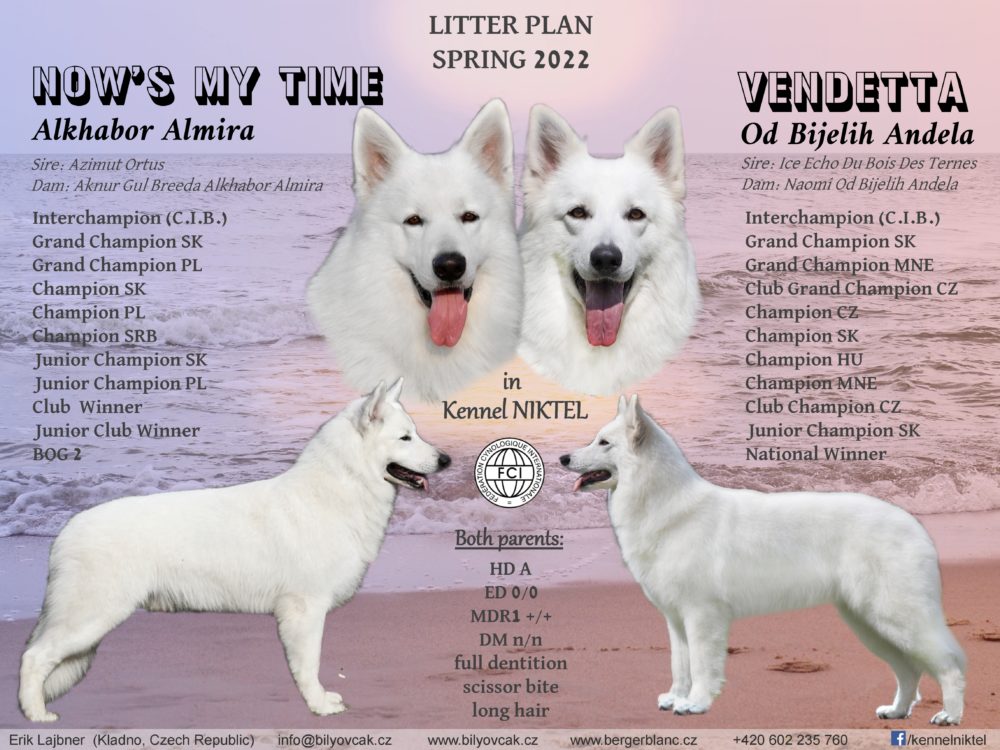 For spring 2022 we are planning a litter of long hair puppies. Our lovely wolf-like VENDETTA Od Bijelih Andela will become mother for the second time. As the father of this litter we chose a long-hair stud imported from Russia, living in Poland – Alkhabor Almira NOW'S MY TIME home name "Wow".
Wow je huge, extra fluffy 5-year-old male with perfect health and show results. As Vendetta Wow also achieved the highest possible show awards and titles. He is an Interchampion (C.I.B.), Grand Champion a multi national champion. He was seen by many international judges and they found him as a typical WSS, a male as he should be. There are many famous names from the best bloodlines among his ancestors, most of them a le also champions, and some even world winners. Wow has a calm and balanced character. Health: HD A, ED 0/0, MDR1 +/+, DM n/n, full dentition, scissor bite.
Vendetta is also very fluffy, but more subtle and feminine with a very noble head. Therefore we believe she will make a great counterweight to the big masculine male. Her smaller ears, lighter eye and long slim straight legs make her like an exact copy of the snow wolf. She is very active, loves running and chasing balls. When she has a ball, toy or bone she can protect them or her territory really well against the other members of the pack. Towards people she is very open and friendly, she is very self confident and absolutely fearless. She makes use of her drive very well in canicross, she tows very well and loves racing and overcoming different types of obstacles on dog-OCR- races. At the show field she has also achieved the highest possible awards as Wow. She also has the best possible results. They are perfect match together. You can read more about Vendetta on her personal page here, there are also a lot of her photos and videos.  Vendetta has already become a mother in January 2021 for the first time, she gave us 7 lovely Beetles. Photos of her first litter here.
We expect puppies with high drive and show and sports potential.
All puppies in our kennel undergo a thorough socialisation programme with many stages. We concentrate on good socialisation of puppies, so that puppies from us come self-confident, socialised and fearless. We start very early, just a few days after birth and continue with socialisation in accordance to the age and level of development of the puppies. Each stage is videoed and we send all the videos to the future owners, some of the chosen videos can be also found on our Youtube channel, or on our kennel FB page. For better imagination of what each stage means and consists of see some of our videos from the previous litters.
We have launched the reservations. We are looking for active owners, ideally with interest in any kind of dog activities (shows, sports, obedience, canistherapy, rescue, breeding…). We choose the potential owners very carefully so that the puppies have the best homes.
Pedigree of the planned litter on pedigreedatabase here.
Pedigree
C.I.B., MultiCh., Grand Champion PL,SK

Alkhabor Almira NOW'S MY TIME

WW-13,VWW-14,ChRU,RKF,HUN,EST,LT,UKR,LV,BLR,INT Ch

Azimut Ortus

BBI World Winner 2008, CZ Club Winner 2008, BaltW'09, LVW'10, BH

Cherokee Baltic Beauty Du Bois Des Ternes

CH FRANCE/LUX/SUISSE

Tracker du Bois des Ternes

Dakota Van Hiemrod

RU JCH

Only Best Baltic Beauty

Multi Champion, BH

Evridikke Metius Baltic Beauty

EW'07,LV&RUS&PL&HRCH

Armida Od ČErneho Datla

Obedience Trial - 2 BIG-2, CACIB, CHRus, JCHRus, CH RKF x2, CH OANKOO, CH RFSS

Aknur Gul BREEDA Alkhabor Almira

DJCH & CLUB

Made to Measure Kokkio Kilego

WJW-08, EW-08

Horsebo Muffin

RALLY-B

Crispy Of Tresbon Berger Blanc

CHRUS,CHRKF, T-1

Yaroslava Dlya AknurGul

СH RUS

Baltazar Halit Pasa

Alma Flafi Beib

C.I.B. Club Grand Champion CZ Grand Champion MNE Champion CZ Champion SK Champion HU Champion MNE Club Champion CZ Junior Champion SK Junior Champion LT Slovak puppy champion Elite puppy winner BOS CACIB Junior BOB multi CAC/CAJC Excellent 1 / Very promising 1

Inter Champion, Champion of France, IPO 1, IPO V, TAN, TAT, CSAU

Ice Echo du Bois des Ternes

Multi Champion, TAN

Echo du Bois des Ternes

Champion, Nord JW 05, Fin Winner 06

Snamerto Snaomner

Dakota Van Hiemrod

Horsebo Empire

Champion DK, European Winner 04, NorduCh

Nice Of You To Come Bye Mojo

Champion DK, European Winner 04, NorduCh

Enjoy Of White Sunshine

Junior Champion of Slovenia, Karavanka winner 2017, Champion of BiH, Champion of Federation BiH, Champion of Slovenia, BIS

Naomi od Bijelih Andela

Inter Champion, Multi Champion

Yole vom Sutumer Grund

Multi Champion, TAN, CSAU, TST

I Love Boy P'tits Loups d'Amour

Only You vom Sutumer Grund

Junior Champion, Champion

Azra Zora vom Sutumer Grund

Multi Champion (DJ, D, DK), BH/VT

Vin Diesel of Haely's Future

Maybe Magic Lou vom Sutumer Grund