Litter "E" Niktel (CZ)
* End of 2021/ Beginning of2022
our own puppies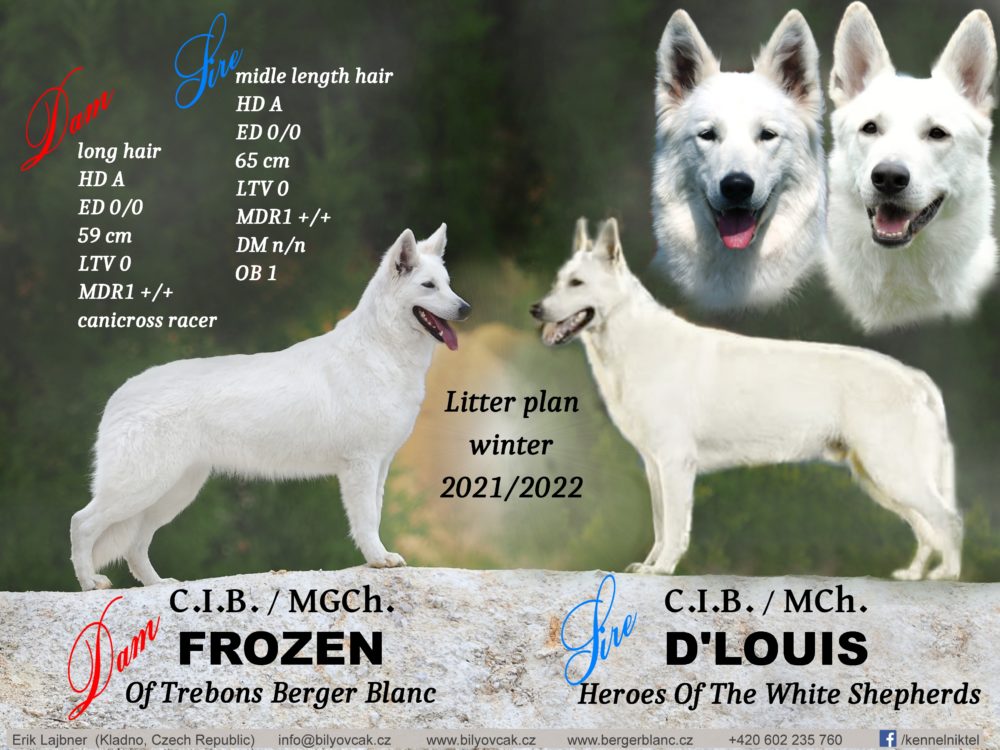 For the end of 2021/beginning 2022 we plan puppies after our Danish princess and sports enthusiast Multi Grand Champion FROZEN Of Trebons Berger Blanc. For Frozen it will be her second litter. In her first, there were 8 lovely Angels. For photos of Angels visit here. For information, photos, health tests and achievements about mother Frozen visit here.
We have carefully chosen the stud for this litter, it will be a six year old dog D'Louis Heroes of the White Shepherds from Germany. Luis is a middle length WSS with perfect body build, balanced character and high drive. He loves children, play, balls and other animals. In his free time he also does agility and trains obedience, he has passed the exam OB 1. He has the best health results (HD A, ED 0/0, MDR1 +/+, DM n/n) and he has achieved the highest schow awards. He is a multiple champion and he has recently fulfilled the conditions to be granted the highest possible title of an Interchampion (C.I.B.) by the International Canine Federation (FCI) in Belgium.
We expect puppies with both middle-length and long hair with great potential for show and sport.
We have launched the reservations. We are looking for active owners, ideally with interest in any kind of dog activities (shows, sports, obedience, canistherapy, rescue…). We choose the potential owners very carefully so that the puppies have the best homes.
Pedigree
C.I.B., German Champion VDH, Club Champion BVWS, Specialty Winner, multi BOB, BOS, CACIB

D'LOUIS Heroes of the White Shepherds

Multi Champion

Handur Vom Bozener Hof

BS'07, ES'08, VWW'09, IPO 3, SCHH 3, VPG 2

Bossanova von White Angel

FCI WORLDWINNER '03

Baron vom Schloss Stutensee

Fanni von Királyszentistváni Kristály

Fabienne vom Bezener Hof

Tumbledown's Macho

Gillian-Manderly vom Bozener Hof

Multi Champion

Mistyknights Hot Shot for White Knight

Cart White Knight La Kwanza

ALL BREEDS WINNER 2010, Champion

Jalaneque Azean-Angel for White Knight

Champion

La-Viza Fria of the Heart Of Lothian

Champion

Mistyknights Dream Catcher

Champion

CART White Knight Mi'Lord Silver

Champion

White Knight Keep-Sake Tezrah

C.I.B. Grand Champion Czech Republic Club Grand Champion CZ Grand Champion Montenegro Champion Czech Kinology Organisation (CMKU) Champion Czech Republic Champion Slovakia Champion Montenegro Champion Bosnia and Herzegovina Champion Kosovo Champion Serbia Club Champion National Winner Junior Champion LT Puppy Champion SK BOB, BOS, JBOB multi CACIB... JBOB multi CAC / CAJC / Excellent / Very promising

C.I.B., Multi Ch, Hungarian Club Champion

Tom Jones Ice Lilien

Juan of Skah Dakota

Born to Win White Dante

JW-W05

Ezira-Shideezh of Skah Dakota

C.I.B., JBIS, JCh SRB

Lilien-Dragonwings

Vonder von Diamond

Rena

Multi Ch, Nordic Winner 2016, JCh, BISS3, Club Champion

Jam of Trebons Berger Blanc

WW08, WW11, ES Ch

Horsebo U2

Al-Pacino of Haely's Future

DK Ch, EU W05, NORDUCH

Enjoy Of White Sunshine

GI Ch

Galilea of Trebons Berger Blanc

Horsebo One

Eur Ch 09

Class Apart of Trebons Berger Blanc