Litter "I" Danel Sogno (CZ)
* 2021-01-06
breeding with our stud dog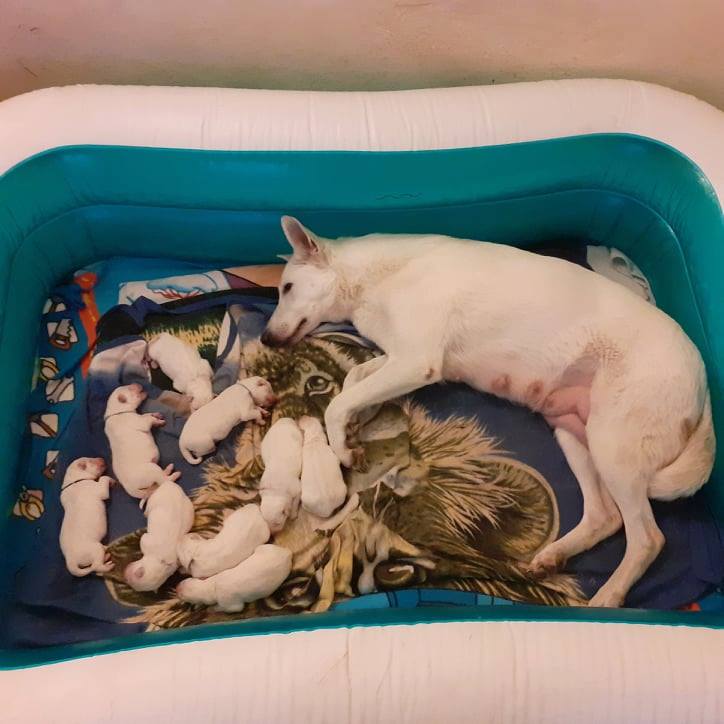 On 6th January 2021 nine lovely puppies were born from the mating with our AXEL. The mother is a female from the Czech kennel Danel Sogno, it's litter "I". She is an active short-haired female with perfect health results  (HD A, ED 0/0, MDR1 +/+, DM n/n, BAER OK). There are 5 boys and 4 girls, all healthy and lively. Mummy Faira did an excellent job during the delivery.
We look forward to seeing this new Axel's progeny grow up.
All puppies are reserved, their new owners are impatiently waiting for them to be ready to come to their new forever homes.
Pedigree
C.I.B. - Interchampion Grand Champion of Czech Republic Grand Champion of Slovakia Grand Champion of Montenegro Champion of Czech Republic Champion of Slovakia Champion of Lithuania Champion of Bosnia and Herzegovina Champion of Croatia Champion of Serbia Champion of Montenegro Junior champion CZ Junior champion SK Club grand champion Club champion Master of Endurance Sports Endurance test Canicross and OCR medalist Best show dog in CZ - 3rd place (2016) Open Slovakia Dog Cup 2017 - 2. place National winner Regional winner Winner of Mladá Boleslav Youth national winner SK BIS 3 BIG 1 BOB BOS CACIB res. CACIB multi CAC/CWC multi CAJC

Grand Champion CZ, Champion CZ, Champion ČMKU, Club Champion, Winner of specialty show, Regional winner, multi BOS/CACIB/CAC/CAJC...

BARNET Abraska

res. CAC

Blesk od Kunovského lesa

CH

Falco of Kim's dream

REGIONAL WIN., R.CAC

ADRIANA u Panáka

Nejl.mladý plemene, CAJC, Výborná, Velmi nadějná

Bepcock Nubika

BOB, CAC, CAJC

Cleo z Nuslaudy

CH(CZ)CACIB,BOB

Julie Nycol Elbigi

Grand Ch CZ, Ch. CZ+SK, Club Ch., National winner

XARRIA JACKIE Donnevara

CH+JCH CZ,SK

Ares z Nového Malína

Cino Giacomo Elbigi

Alexis of White Glory

Český junior šampion, Nejl.mladý plemene, Nejlepší mladá fena, Výborná, Velmi nadějná, Český šampion, Champion Slovenska, 2x Res.CACIB, CAC ČMKU, BOB, Klubový champion, 2x CACIB

Nataly Cheryl Donnevara

Český šampion, Champion Polska, Klubový champion, Klub.champ.Slovenska, 2x Národní vítěz, Vítěz speciální výstavy, 5x Nejlepší pes pl., Champ.ml.Slovenska, Český junior šampion, Grand champ. ČR, Champion Slovenska, 2x Klubový vítěz, 2x Vítěz klub.výst., 9x BOB

Dragon la Blankpapilio

2x Res.CACIB, CAC ČMKU, BOB, Klubový champion, 2x CACIB

Genny Lee Donnevara

CAC, res.CAC, výborná

FAIRA AREZAR Danel Sogno

C.I.B., Multi Champion

AREZZO Bohemia Star Moraveč

FERGUSTON Taien

BASKO Fillův dvůr

GARA z Veselé rodiny

ARTEMIS z Nového Malína

CINO GIACOMO Elbigi

ALEXIS of White Glory

ARIS z Papouščího ráje

DARKAN WHITE Ancilia

TARKAN

ATHENA Ancilia

JASMÍNA Taien

VICTORIES BODYGUARD of Haely's Future

AMÁDEA Whiteline Czech