Litter "B" Hotah Lakota (CH)
* November 2020
breeding with our stud dog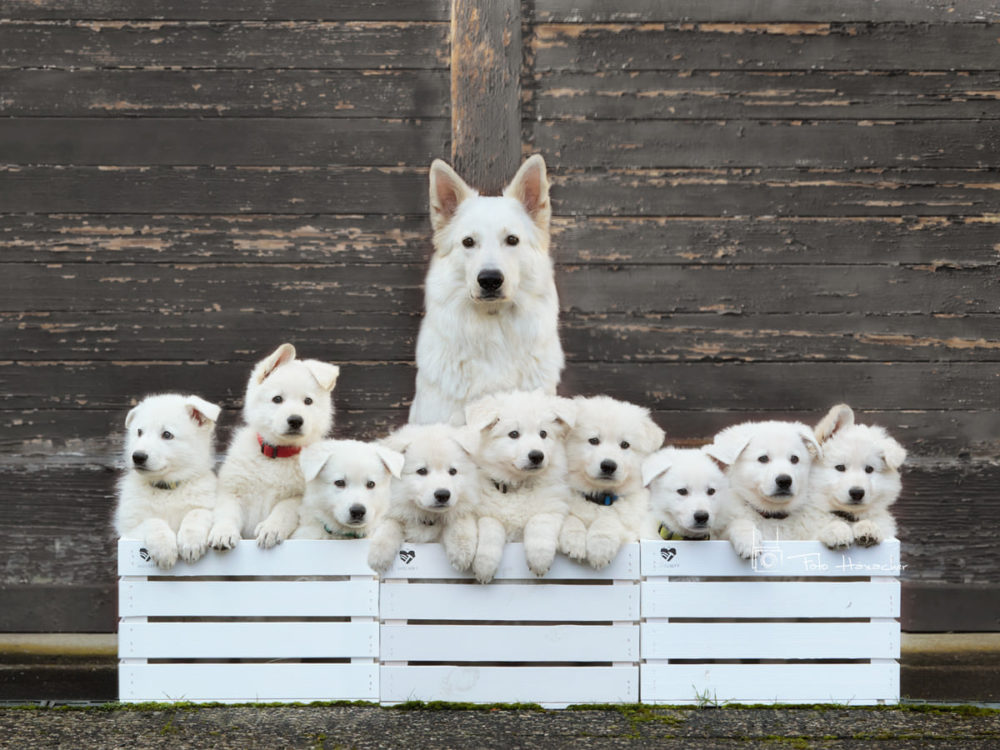 On the 4th November 2020 kennel Hotah Lakota in Switzerland welcomed 9 healthy puppies from the mating with our Axel – 6 girl and 3 boys.All puppies are active, healthy, nursing and growing fast.
We had to undergo a lot of additional health tests in order to be approved for breeding in the home country of White Swiss Shepherds, Switzerland. Fortunately all the tests and checks came out perfectly, so we are very happy that this litter could be born.
The mother is a longhair 3,5 year-old female Harmony Hope von Pardiel Grischun. Both parents have perfect health results, characters and show results, so we are looking forward to this litter a lot.
All puppies from this litter are reserved.
Harmony Hope von Paradiel Grischun
born 23.04.2017
height 63 cm
HD A/A
ED 0/0
Lüw 0
MDR 1 N/N
DM N/N
MH N/N
SLC N/N
BAER test: hears normal on both ears
Heart: OK
Eyes: OK
Approved for breeding under FCI/SKG/GWS
Pedigree
C.I.B. - Interchampion Grand Champion of Czech Republic Grand Champion of Slovakia Grand Champion of Montenegro Champion of Czech Republic Champion of Slovakia Champion of Lithuania Champion of Bosnia and Herzegovina Champion of Croatia Champion of Serbia Champion of Montenegro Junior champion CZ Junior champion SK Club grand champion Club champion Master of Endurance Sports Endurance test Canicross and OCR medalist Best show dog in CZ - 3rd place (2016) Open Slovakia Dog Cup 2017 - 2. place National winner Regional winner Winner of Mladá Boleslav Youth national winner SK BIS 3 BIG 1 BOB BOS CACIB res. CACIB multi CAC/CWC multi CAJC

Grand Champion CZ, Champion CZ, Champion ČMKU, Club Champion, Winner of specialty show, Regional winner, multi BOS/CACIB/CAC/CAJC...

BARNET Abraska

res. CAC

Blesk od Kunovského lesa

CH

Falco of Kim's dream

REGIONAL WIN., R.CAC

ADRIANA u Panáka

Nejl.mladý plemene, CAJC, Výborná, Velmi nadějná

Bepcock Nubika

BOB, CAC, CAJC

Cleo z Nuslaudy

CH(CZ)CACIB,BOB

Julie Nycol Elbigi

Grand Ch CZ, Ch. CZ+SK, Club Ch., National winner

XARRIA JACKIE Donnevara

CH+JCH CZ,SK

Ares z Nového Malína

Cino Giacomo Elbigi

Alexis of White Glory

Český junior šampion, Nejl.mladý plemene, Nejlepší mladá fena, Výborná, Velmi nadějná, Český šampion, Champion Slovenska, 2x Res.CACIB, CAC ČMKU, BOB, Klubový champion, 2x CACIB

Nataly Cheryl Donnevara

Český šampion, Champion Polska, Klubový champion, Klub.champ.Slovenska, 2x Národní vítěz, Vítěz speciální výstavy, 5x Nejlepší pes pl., Champ.ml.Slovenska, Český junior šampion, Grand champ. ČR, Champion Slovenska, 2x Klubový vítěz, 2x Vítěz klub.výst., 9x BOB

Dragon la Blankpapilio

2x Res.CACIB, CAC ČMKU, BOB, Klubový champion, 2x CACIB

Genny Lee Donnevara

HARMONY HOPE von Paradiel Grischun

Fussly Akiro of White Starlight

Icor vom Altvistal

Irko

Eliska Of White Heroes

Barina of White Starlight

Axo

Bonita

Estelly Nova von Paradiel Grischun

Highlander-Leon of Buscin's Love

Dragon la Blankpapilio

Deyenne-Shelby of Buscin's Love

Quandie vom Werntal

Bossanova von White Angel

Diona vom Werntal