Litter "A"ngels Niktel (CZ)
* 2020-10-16
our own puppies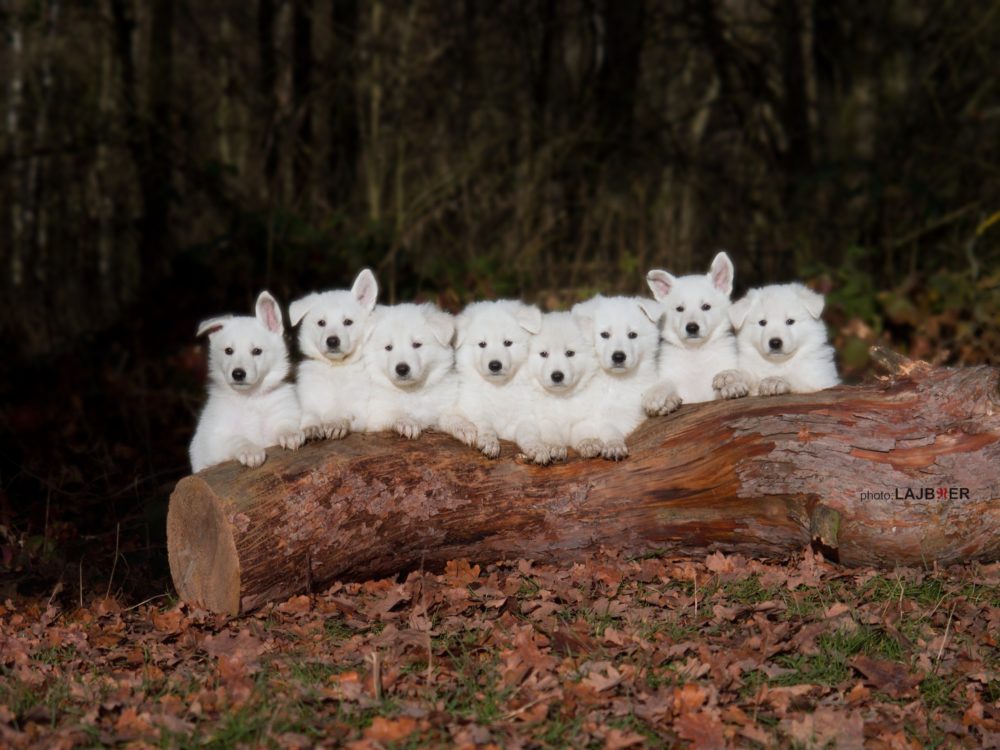 On the 16.10.2020 we welcomed 8 puppies from the mating of our lovely Multichampion female Frozen and handsome Interchampion / Multigrandchampion Axel (6 girls, 2 boys). Both parents are perfectly healthy, balanced, sporty with perfect exterior. They both have very interesting pedigrees with very high quality ancestors, Axel has pure Czech bloodlines, Frozen was imported from Denmark and carries the best bloodlines from the whole Europe.  You can find more about the parents, their health results, achievements and many photographs on their personal pages:
Angels are lively, they are excellently socialized, have perfect personalities. All live their new perfect families around the whole world (Mexico, Germany, United Kingdom, Ireland and the Czech Republic)
All our puppies in  our kennel always go through a well-thought-out socialization program with many stages. We pay a lot of attention to socialization and focus on the fact that we want the puppies to leave us confident, socialized and fearless. We start very early, already a few days after the birth, and we continue gradually with individual follow-up phases, according to the development of the puppies and in proportion to their age. Some stages are rather one-off, while others are repeated regularly after the first performance. We always film each phase on videos, you can find most socialisation videos below the text, see the "VIDEO" button, or on our FB pages and our YouTube channel, where there is also a detailed description of the individual phases from each litter.
Angels have gone through the following socialization stages:
Stage 1 – Touching, lifting, handling (from 6 days of age)
Stage 2 – Introducing different loud sounds (from 10 days)
Stage 3 – Introducing toys (from 17 days)
Stage 4 – Obstacles (from 19 days)
Stage 5 – Meeting Daddy Axl (3 weeks)
Stage 6 – First porridge (4 weeks)
Stage 7 – New Obstacle – Swing (4 weeks + 1 day)
Stage 8 – Toilet training (from 3.5 weeks)
Stage 9 – Moving Objects – Robotic Vacuum Cleaner (5 weeks)
Stage 10 – Observing the world around you (5.5 weeks)
Stage 11 – City Visit (6 weeks)
Stage 12 – Following the handler on a walk (6.5 weeks)
Stage 13 – Exploring the World Around You (6.5 weeks)
Stage 14 – Fireworks Dinner (7 weeks)
Stage 15 – Angels in the Snow (7 weeks + 2 days)
Stage 16 – Training the "Stay" command (7.5 weeks)
Stage 17 – Socialization visits (from week 7)
Stage 18 – We learn to rest
Stage 19 – Completion of Hygiene Training (8 weeks)
Stage 20 – Learning the Pack Hierarchy (from Week 7)
Stage 21 – Combining multiple previous phases in one experience (9 weeks) – driving a car, exploring new terrain, jogging, visiting the vet, vaccinations
Stage 22 – Grooming and Claws
Stage 23 – Volhard Personality Test (7th week)
Stage 24 – Night Walk (11 weeks)
Stage 25 – Sniffing Rug (11.5 weeks)
Stage 26 – Cuddling with Babies (12 weeks)
Stage 27 – Walking on a lead (from week 6)
Stage 28 – Change of Environment (12 weeks)
Stage 29 – First Obedience Training (12 weeks)
Stage 30 – Self-Control – Waiting Quietly for Food (12 weeks)
Stage 31 – Separation – Leaving Alone (12 weeks)
Stage 32 – Ignoring the Broom (12.5 weeks)
Stage 33 – Train Station (15 weeks)
Pedigree
C.I.B. - Interchampion Grand Champion of Czech Republic Grand Champion of Slovakia Grand Champion of Montenegro Champion of Czech Republic Champion of Slovakia Champion of Lithuania Champion of Bosnia and Herzegovina Champion of Croatia Champion of Serbia Champion of Montenegro Junior champion CZ Junior champion SK Club grand champion Club champion Master of Endurance Sports Endurance test Canicross and OCR medalist Best show dog in CZ - 3rd place (2016) Open Slovakia Dog Cup 2017 - 2. place National winner Regional winner Winner of Mladá Boleslav Youth national winner SK BIS 3 BIG 1 BOB BOS CACIB res. CACIB multi CAC/CWC multi CAJC

Grand Champion CZ, Champion CZ, Champion ČMKU, Club Champion, Winner of specialty show, Regional winner, multi BOS/CACIB/CAC/CAJC...

BARNET Abraska

res. CAC

Blesk od Kunovského lesa

CH

Falco of Kim's dream

REGIONAL WIN., R.CAC

ADRIANA u Panáka

Nejl.mladý plemene, CAJC, Výborná, Velmi nadějná

Bepcock Nubika

BOB, CAC, CAJC

Cleo z Nuslaudy

CH(CZ)CACIB,BOB

Julie Nycol Elbigi

Grand Ch CZ, Ch. CZ+SK, Club Ch., National winner

XARRIA JACKIE Donnevara

CH+JCH CZ,SK

Ares z Nového Malína

Cino Giacomo Elbigi

Alexis of White Glory

Český junior šampion, Nejl.mladý plemene, Nejlepší mladá fena, Výborná, Velmi nadějná, Český šampion, Champion Slovenska, 2x Res.CACIB, CAC ČMKU, BOB, Klubový champion, 2x CACIB

Nataly Cheryl Donnevara

Český šampion, Champion Polska, Klubový champion, Klub.champ.Slovenska, 2x Národní vítěz, Vítěz speciální výstavy, 5x Nejlepší pes pl., Champ.ml.Slovenska, Český junior šampion, Grand champ. ČR, Champion Slovenska, 2x Klubový vítěz, 2x Vítěz klub.výst., 9x BOB

Dragon la Blankpapilio

2x Res.CACIB, CAC ČMKU, BOB, Klubový champion, 2x CACIB

Genny Lee Donnevara

C.I.B. Grand Champion Czech Republic Club Grand Champion CZ Grand Champion Montenegro Champion Czech Kinology Organisation (CMKU) Champion Czech Republic Champion Slovakia Champion Montenegro Champion Bosnia and Herzegovina Champion Kosovo Champion Serbia Club Champion National Winner Junior Champion LT Puppy Champion SK BOB, BOS, JBOB multi CACIB... JBOB multi CAC / CAJC / Excellent / Very promising Master of Endurance sports Best working WSS in endurance sports 2021 Champion in OCR for WSS 2022 Endurance test

C.I.B., Multi Ch, Hungarian Club Champion

Tom Jones Ice Lilien

Juan of Skah Dakota

Born to Win White Dante

JW-W05

Ezira-Shideezh of Skah Dakota

C.I.B., JBIS, JCh SRB

Lilien-Dragonwings

Vonder von Diamond

Rena

Multi Ch, Nordic Winner 2016, JCh, BISS3, Club Champion

Jam of Trebons Berger Blanc

WW08, WW11, ES Ch

Horsebo U2

Al-Pacino of Haely's Future

DK Ch, EU W05, NORDUCH

Enjoy Of White Sunshine

GI Ch

Galilea of Trebons Berger Blanc

Horsebo One

Eur Ch 09

Class Apart of Trebons Berger Blanc
Puppies