FROZEN of Trebons Berger Blanc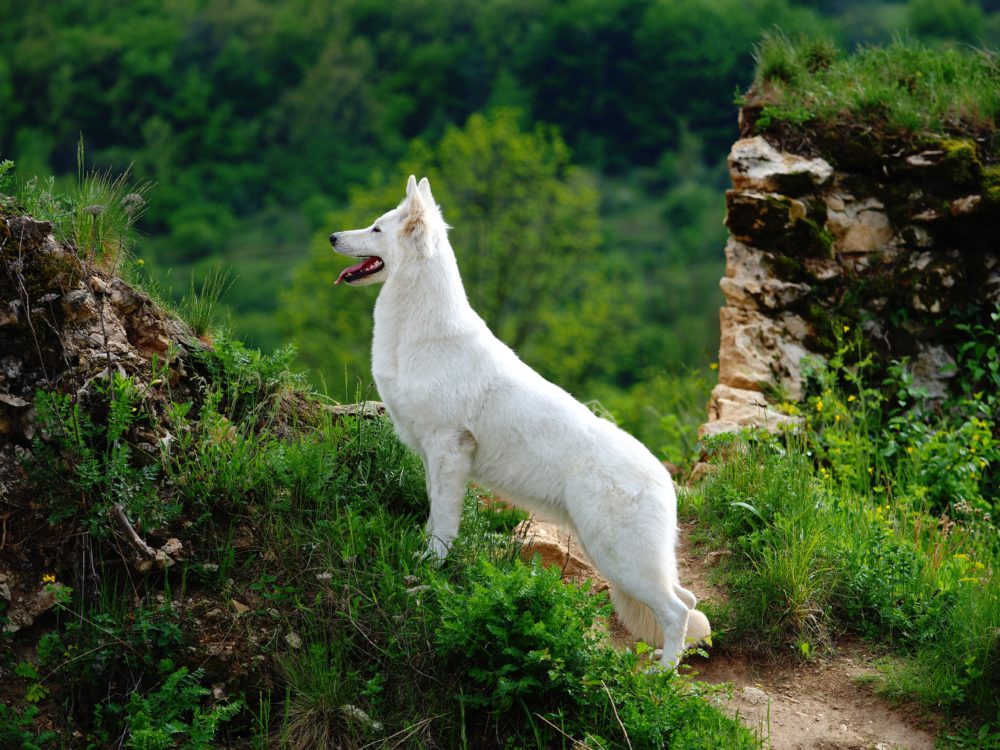 Another addition to our white family came from far far away – Denmark. She has an excellent pedigree with very high quality ancestors from all over the world. Many of her ancestors are proud holders of the titles of Interchampions, Multichampions, Club champions and winners of all types.
Frozen is very lively, cheerful and active, how a young dog of her age should be. She is perfectly socialized and very bright. She does not fear anything or anybody, on the contrary everything is interesting for her and she likes to explore new things. She has a very elegant and light movement, nice constitution and a noble head. At dog shows she feels like at home already, she has been visiting them since 3 months of age for socialisation and since 4 months she also takes part in the ring. She gained so much experience so far, that she is like a professional in the ring now. She is very calm and relaxed so it is a pleasure to present her. In puppy and junior classes, she won several first places and gained the first title "Slovak puppy champion" at only 7 months. In her first shows in junior class in Lithuania before Christmas 2018, she was awarded 2x Junior BOB and finished her first junior championship. She started with canicross trainings now, too. She enjoys it very much and she even took part in her first race already. She ran with an 8-year-old girl (we still have to protect the legs and joints), and they did extremely well, finisher 4th out of 21 mostly adult racers. We put all our hopes in her, as well as in the others.
In March 2019 she passed the youth check successfully – she has full dentition, scissor bite, height 59 cm and excellent assesment of the committee. Later this year she will undergo the X-rays for HD and ED results.
Her pedigree on pedigreedatabase here.
Titles
Club Champion
National Winner
Junior Champion LT
Puppy Champion SK
BOS
JBOB
multi CAC / CAJC / Excellent / Very promising
Additional information
| | |
| --- | --- |
| Sex | female |
| Height | 59 cm |
| Teeth | full dentition, scissor bite |
| MDR 1 | +/+ po rodičích |
Pedigree
C.I.B., Multi Ch, Hungarian Club Champion

Tom Jones Ice Lilien

Juan of Skah Dakota

Born to Win White Dante

-

-

JW-W05

Ezira-Shideezh of Skah Dakota

-

-

C.I.B., JBIS, JCh SRB

Lilien-Dragonwings

Vonder von Diamond

-

-

Rena

-

-

Multi Ch, Nordic Winner 2016, JCh, BISS3, Club Champion

Jam of Trebons Berger Blanc

WW08, WW11, ES Ch

Horsebo U2

Al-Pacino of Haely's Future

-

-

DK Ch, EU W05, NORDUCH

Enjoy Of White Sunshine

-

-

GI Ch

Galilea of Trebons Berger Blanc

Horsebo One

-

-

Eur Ch 09

Class Apart of Trebons Berger Blanc

-

-