SKAZKA Iz Beloy Brigady
* 2019-04-24
breeding female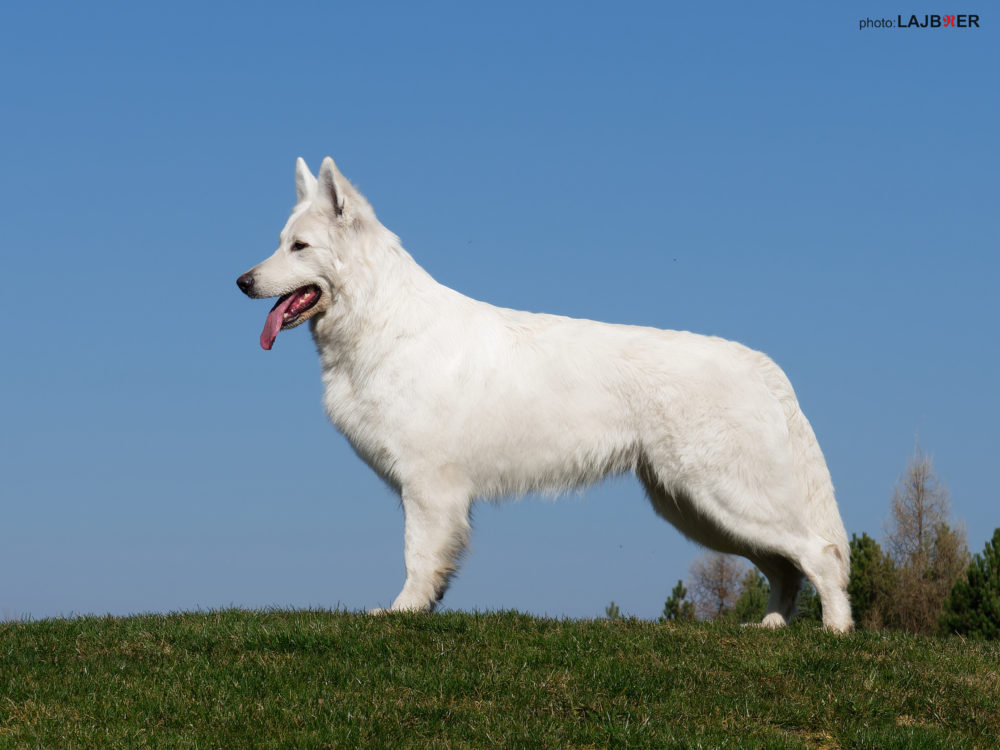 Skazka came to us all the way from Russia. She enlarged our team in August 2019, when she was 3,5 months old. It was love at first sight. Skazka is the Russian word for "Fairy tale", so she perfectly matches our Frozen, who was named after the famous Disney fairy tale "Frozen".
She is curious, playful, used to various situations. She protects her own territory and she can make a lot of noise when neccesary, she is a great guard dog. Towards strangers she is reserved, but friendly.
She has great drive and is ready to work any time. She is very active and competitive, she loves sports. We run canicross and race in obstacle races together and she is very good at it. For her lifetime sports results she already got the title "Master of endurance sports" granted by the Czech WSS Club. Running keeps her in perfect shape, she is very fit and healthy. In her free time she attends dog school, she loves obedience trainings. Sometimes we also take her to relax during ballance exercises or socialisation lessons.
She has strong bone structure, straight legs and top line. We especially love her dark pigmentation and elegant head. She already attended several dog shows. The judges loved her. There are many Champions, Grand Champions, Interchampions and even some World and European winners in her pedigree. Her grandmother ATAKA Iz Beloy Brigady is one of the most successful show dogs in the history of the breed – she is triple world winner! Skazka's show career was influenced by the Covid-19 pandemic, when shows could not be organised for many months. Even though she managed to achieve the title of the national champion of Slovakia and Hungary and the Czech club champion. Now she plans to start showing again and try to achieve the top international titles.
She has the best results of compulsory and voluntary health tests, which we made.
In September 2020 she successfully passed the youth check and in March 2022 she successfully passed the breeding test. Skazka is the mother of our litter D and we are planning another litter for her in the second half of 2022. More information here.
Titles
Champion SK
Champion HU
Czech club champion
Master of Endurance Sports
BOS
CACIB
BOB Junior
CAC/CAJC
BIS Baby (I, II, III)
Baby Champion
Best Baby
Excellent 1/Very Promising 1
Pedigree
CH Russia, CH RKF, JCH Russia

HECTOR Iz Beloy Brigady

Multi Grand Champion, Champion Eurasia, Russia, JCH Russia

BOND JAMES BOND Iz Beloy Brigady

CH Portugal, VWW 12

MACAO De La Roche Blanche

Zack de Vi Pasay

Crystal De La Roche Blanche

CH Russia, JCH Russia, Best Dog, CH RKF, obedience, rescue dog

TANGO Show Queen Swissdream

BBI World Winner 2008, CZ Club Winner 2008, BaltW'09, LVW'10

Cherokee Baltic Beauty Du Bois Des Ternes

Multi Champion (Lithuania, Latvia, Estonia, Baltic)

Selerija Ahsel Sandida

JCH Russia

Comanda Iz Beloy Brigady

VWW 16, WW, European Winner, Multi CH (Russia, RKF, France, Switzerland, Monte Negro, Luxembourg, Germany, Slovenia)

BEAUTIFUL ANGEL Du Bois Des Ternes

CH JR DU LUXEMBURG

Apache Of White Energy

S'Hawai de la Roche Blanche

WW 15+16, VEW 14, BBIWW 13, C.I.B., Multi CH (Russia, RKF, Eurasia, Czech Republic, France, Germany, Romania, Cyprus)

ATAKA Iz Beloy Brigady

CH Portugal, VWW 12

MACAO De La Roche Blanche

CH Russia, JCH Russia

Born to Win White ARIZONA

CH Russia, JCH Russia

Pappelpark GERTSOGINYA

Grand Champion Russia, Club Champion Russia, CH Russia, CH RKF, JCH Russia,

Arden Sol BASTIAN

Multi CH (Monte Negro, Bulgaria, Makedonia, Serbia, Slovenia), IPO-1

FUEGO Biala Pasja

VWW, C.I.B., Grand CH, Multi CH, CH of reproduction

Aron

CH PL, CH LT, JCH PL

CASSIOPEYA Taien

CH Russia

Ruta'x Royalty KATHREEN

BBI World Winner 2008, CZ Club Winner 2008, BaltW'09, LVW'10

Cherokee Baltic Beauty Du Bois Des Ternes

Born to Win White ANGELA

CH Russia, JCH Russia

Egoza Markiza Razboynikov

CH Russia, CH RKF, JCH Russia

INAT Od Bijelih Andela

GPE

FAELAN vom Terluner Schloss

RWS WORLD WINNER 2017.and BOB, INTER CH, MULTI CH

FRIDA od Bijelih Anđela

CH Russia, JCH Russia

S Nezhny Zver KATRINA

CH Russia, JCH Russia

Astra Avis Bagration

Rossmel Senorita Santana