Litter "H"eroes Niktel (CZ)
* 2022-11-24
our own puppies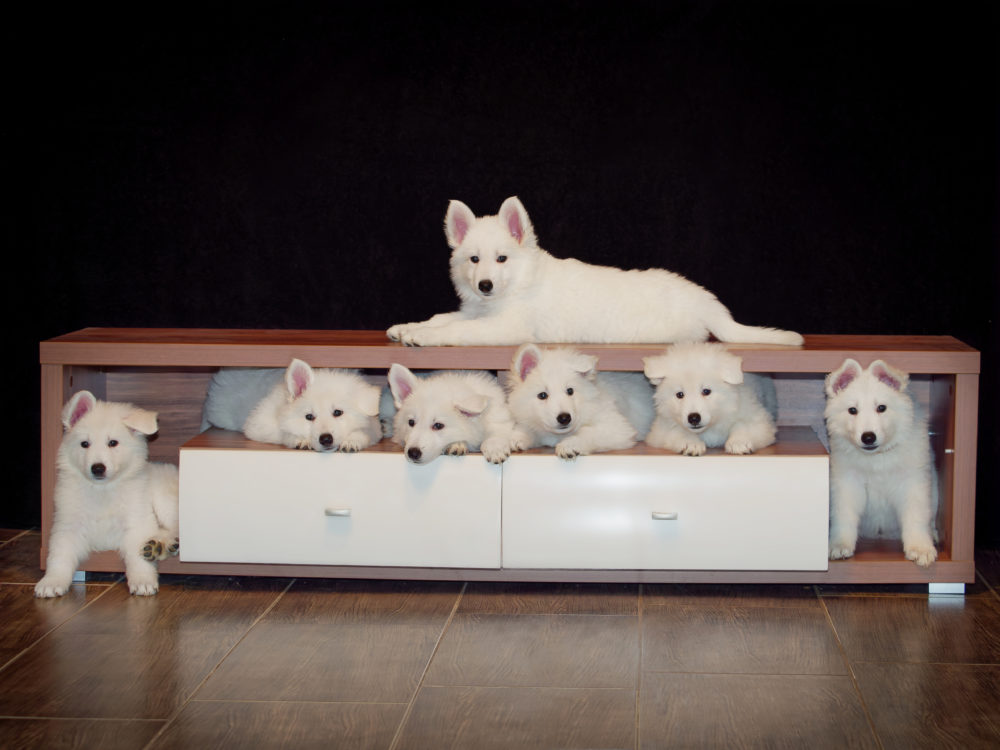 We welcomed a litter after our Multi Champion female SKAZKA Iz Beloy Brigady – litter H, for "Heroes". We have chosen a stud who is extraordinary in character and looks as well as his excitement for almost any dog activity. The father of the litter is fantastic KING KING z Ranče Montara.
Puppies' pedigree on pedigreedatabase here.
Description of the parents:
King is a subtle and very noble male. He has great pigmentation, lovely smile and very open character. He loves everybody and everything. He is also very temperament. He can do anything just to please his beloved people. He passed canistherapy exams and showed his easy-going character there. He is extremely easily trained and can be easily motivated, either by treats or by toys and balls. The only thing which he does not like very much and can't do well is to get angry and fight with other dogs or with a person at protection trainings. But he loves obedience trainings, tracking and does actively search and rescue work. He passed many exams  (eg. BH, Canistherapy exam, RH T – E – search and rescue in ruins combined with obedience IPO-R, RH FL-E, RH FL-A – search and rescue in flat places combined vith obedience). When King has the opportunity he runs canicross or skijöring, where he can use his temperament very well. He has a  lot of things in common with Skazka, so we believe, they will be a perfect match.
Skazka has also got great drive and is ready to work any time. She loves obedience trainings. She is very active and competitive, she loves sports. We run canicross and race in obstacle races together and she is very good at it. For her lifetime sports results she already got the title "Master of endurance sports". Running keeps her in perfect shape, she is very fit and healthy. She is a great guard dog, she can get very noisy is she sees something suspicious. She has strong bone structure, dark pigmentation and elegant head. She attended several dog shows and became the national champions of several countries. There are many Champions, Grand Champions, Interchampions and even some World and European winners in her pedigree. Her grandmother ATAKA Iz Beloy Brigady is one of the most successful show dogs in the history of the breed – she is triple world winner! Her photos, videos, successes and additional information can be found on her personal website here. Photos of puppies from her first litter here.
Health:
King – HD A, ED 0/0, MDR1 +/+, DM n/dm, BAER OK (hearing both sided), full dentition, scissor bite, height 60,5 cm
Skazka –  HD A, ED 0/0, MDR1 +/+, DM n/n (by parentage), LTV 0, full dentition, scissor bite, height 60 cm
Puppies:
Puppies are only long-haired and we expect them to be very active with open characters and high drive and potential. Some have left us already, some are waiting for full vaccination to be able to travel to their forever homes abroad.
All puppies in our kennel undergo a thorough socialisation programme with many stages. We concentrate on good socialisation of puppies, so that puppies from us come self-confident, socialised and fearless. We start very early, just a few days after birth and continue with socialisation in accordance to the age and level of development of the puppies. Each stage is videoed and we send all the videos to the future owners, some of the chosen videos can be also found on our Youtube channel, or on our kennel FB page. For better imagination what our socialisation programme involves and how it looks see the videos and the description in previous litters.
Heroes experienced these socialisation stages so far: 
Stage 1: Touching, lifting, handling, opening the mouth, patting, cudling, and getting used to any type of care
Stage 2: Cuddling with children
Stage 3: Claw trimming and filing
Stage 4: First soft toys
Stage 5: Obstacles
Stage 6: Getting used to uneven surfaces
Stage 7: Loud sounds- bangs, hairdryer, vacuum cleaner, vysavač, music, fireworks…
Stage 8: Reaction to being alone
Stage 9: Crate training
Stage 10: First "trip" out of the whelping box
Stage 11: Car rides
Stage 12: Training of leaving at a certain place
Stage 13: New environment and play area
Stage 14: Hygiene, litter training
Stage 15: Bathing and drying
Stage 16: First porridge
Stage 17: Hanging and moving toys
Stage 18: Watching the busy street outside
Stage 19: Giving medicine – deworming
Stage 20: Visits to the vet 4 + 6 weeks, Vet check + vaccination 12 weeks
Stage 21: Testing the drive to work
Stage 22: Socialisation visits
Stage 23: Socialisation with other dogs
Stage 24: Flying objects
Stage 25: Outside
Stage 26: Introducing B.A.R.F.
Stage 27: First training of obedience and self-control 
Stage 28: Volhard puppy aptuitude test – videos: yellow boy, brown boy, black boy, red girl, blue girl, white girl, turquoise girl
Stage 29: Watching the night traffic from very close
Stage 30: A trip in the trolley to the forrest
Stage 31: A trip in the trolley to the city, shopping centre, restaurant, shops
Stage 32: Snow
Stage 33: Walking on grid surfaces
Stage 34: Training of leaving home alone
Stage 35: Leash walk in the park + training of "come" command
Stage 36: Leash walk – busy street
Stage 37: Group training of self-control and obedience
Stage 38: Home obedience training – individual
Stage 39: Nosework
Stage 40: Robotic vacuum cleaner
Stage 41: Muzzle training
Stage 42: Bus ride
Stage 43: Elevator
Stage 44: Waiting in front of the shop
Stage 45: Caretaking – cleaning ears, eyes, brushing,
Stage 46: Puppy school – obedience
Stage 47: Puppy school – obstacles
Stage 48: Balance exercises (dogfitness)
Stage 49: Other animals – interspecies socialisation
Stage 50: Shopping centre – sliding doors, escalators (flat or with stairs), elevator, people shops…
Stage 51: Obstacle track
Stage 52: Checking and showing teeth, opening mouth
Before the puppies leave us we do Volhard puppy aptitude test, where the character and future abilities of the puppies are tested. How we test the puppies can also be seen in the videos from the previous litters. According to the results of the test and the future plans of the new owners for the puppies we choose the best family for each puppy.
All puppies already have their perfect new homes. We are planning another litter for May 2023. Reservations launched. We are looking for active owners, ideally with interest in any kind of dog activities (shows, sports, obedience, canistherapy, rescue…). We choose the potential owners very carefully so that the puppies have the best homes, which is very important for us. More about the planned litter "I" here.
Pedigree
CAJC, výborný, velmi nadějný, BH, canisterapeutická zkouška, RH T - E, RH FL-E, RH FL-A

KING KING z Ranče Montara

C.I.B., Multi Champion, IPO 3, BH

IRON de l'Esprit du Sud

Fork du Domaine du Chene au Loup

Dragon of Trebons Berger Blanc

Horsebo Cookies

Floppy du domaine de thu lan

Valco Key Shun du Domaine de Thu-Lan

Dixie des terres de voldai

Champion CZ,PH,TR,ROM,UK

EN-JOY STAR z Ranče Montara

Multi Champion, SCHH1 VPG1 BH/VT AD

Atax-Boss vom Sutumer Grund

BS'07, ES'08, VWW'09, IPO 3, SCHH 3, VPG 2

Bossanova von White Angel

DTCH VDH VWW'12, BH/VT, SCHH 1

U'Raja of Haely's Future

IPO 2

Cassey Star Z Rance Montara

BGH3

Alvo Giro of Quietangel

Husky vom Märkischen Oderland

Champion SK Champion HU Czech club champion Master of Endurance Sports BOS CACIB BOB Junior CAC/CAJC BIS Baby (I, II, III) Baby Champion Best Baby Excellent 1/Very Promising 1

CH Russia, CH RKF, JCH Russia

HECTOR Iz Beloy Brigady

Multi Grand Champion, Champion Eurasia, Russia, JCH Russia

BOND JAMES BOND Iz Beloy Brigady

CH Portugal, VWW 12

MACAO De La Roche Blanche

CH Russia, JCH Russia, Best Dog, CH RKF, obedience, rescue dog

TANGO Show Queen Swissdream

JCH Russia

Comanda Iz Beloy Brigady

VWW 16, WW, European Winner, Multi CH (Russia, RKF, France, Switzerland, Monte Negro, Luxembourg, Germany, Slovenia)

BEAUTIFUL ANGEL Du Bois Des Ternes

WW 15+16, VEW 14, BBIWW 13, C.I.B., Multi CH (Russia, RKF, Eurasia, Czech Republic, France, Germany, Romania, Cyprus)

ATAKA Iz Beloy Brigady

CH Russia, JCH Russia

Pappelpark GERTSOGINYA

Grand Champion Russia, Club Champion Russia, CH Russia, CH RKF, JCH Russia,

Arden Sol BASTIAN

Multi CH (Monte Negro, Bulgaria, Makedonia, Serbia, Slovenia), IPO-1

FUEGO Biala Pasja

CH Russia

Ruta'x Royalty KATHREEN

CH Russia, JCH Russia

Egoza Markiza Razboynikov

CH Russia, CH RKF, JCH Russia

INAT Od Bijelih Andela

CH Russia, JCH Russia

S Nezhny Zver KATRINA