DIAMOND White Alaska Dancing With Wolves
* 2017-09-06
breeding female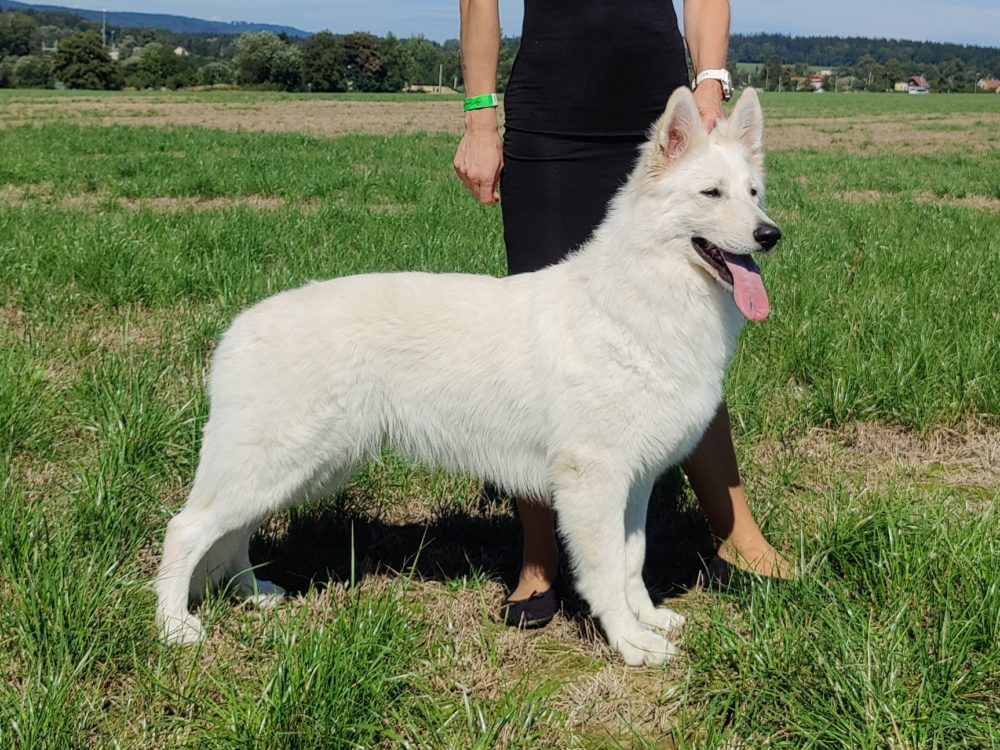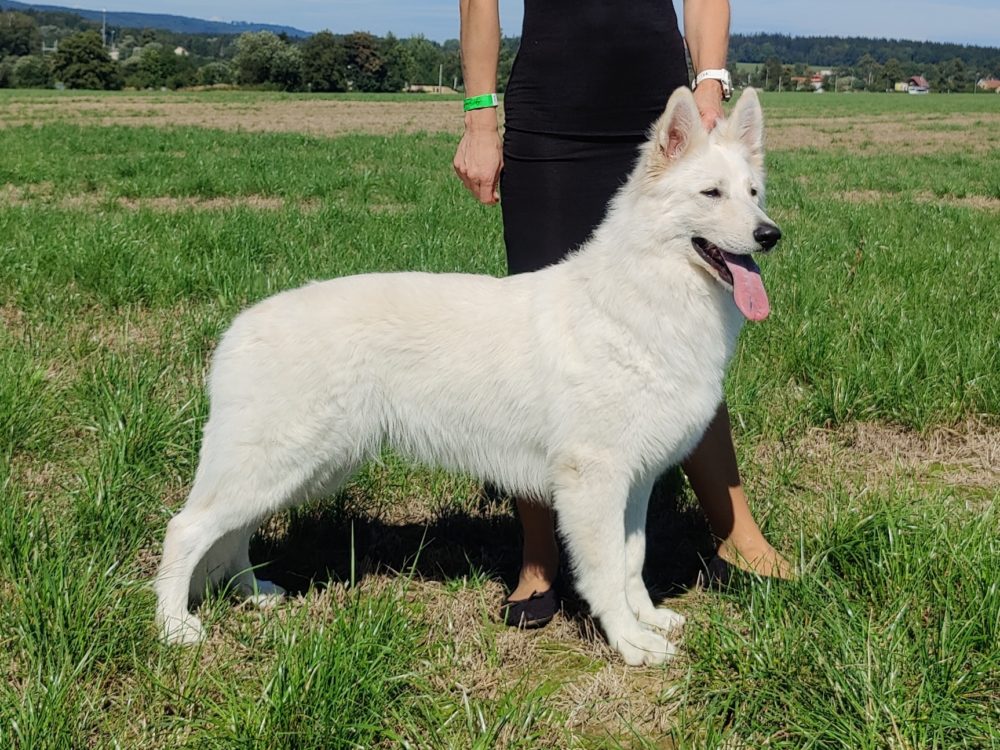 Diamond – "Daimee" is a long coated female, who enlarged our family in November 2017. She comes from Poland and has excellent pigmentation, extremely dark eyes, solid bones and excellent build. She is perfectly socialised, she knows the rules of the pack as well as all common sounds of a household. She has great character, she is self-confident, not fearful or timid. She does not fear anything – people, cars, other dogs, nor anything else. She is very calm and easy-going. She loves human company and is grateful for any expression of favour. Sometimes she visits old people to make them smile. She has canistherapy abilities.
She is also very playful and temperament. She loves running and is a great canicrosser, so she extremely loves doing canicross, dog-scotering and competing in obstacle races with us. She won many 1st places in different races and she was even granted the prestigeous title "The best hard working WSS in endurance sports for the year 2018" when she won the 1st palce in the yearlong club competition for runners. For her lifetime sports results she also got the title "Master of endurance sports". Running keeps her in perfect shape, she is very fit and healthy.
She is a great member of the pack and is a darling for us and our two children. They play together and are not bored at all.
She has collected a huge amount of trophies, awards and titles in shows, too. She became the Czech club Grand Champion as only the 14th female in the 25 year long history of the Czech club. She also became the junior and adult champion and grand champion of several countries. She achieved a great success, when she won the yearlong competition for show dogs in Slovakia 2018. She collected the most points for her Slovak show results and finished on the 1st place among more than 80 WSS exhibited in Slovakia throughout the whole year.
In September 2019 she successfully passed the breeding test and got her breeding licence with excellent assesment of all criteria and with special praise for her extremely dark (almost black) eyes and perfectly wide muscular chest. She has full dentition, perfect health results.
In 2021 she became mother of 5 beautiful "C"andies. In November 2022 she gave us 7 "G"ummibears and her next litter is planned for spring 2024. In case of interest in a puppy do not hesitate to contact us.
Diamond's pedigree on pedigredatabase here.
Titles
Grand Champion Slovakia
Grand Champion Bosnia and Herzegovina
Grand Champion Kosovo
Czech Club Grand Champion
Champion Czech Republic
Champion Slovakia
Champion Lithuania
Champion Serbia
Champion Bosnia and Herzegovina
Champion Kosovo
Champion Montenegro
Czech Club Champion
Junior Champion Slovakia
Junior Champion Lithuania
Open Slovakia Dog Cup 2018 - 1st place (breed winner)
BOG
Junior BIG 1 (Best in Group)
multi BOB
Junior BOB(BOJ)
multi CACIB/CAC/CAJC
Child and dog, 3-9 years - 1. place
The best WSS in endurance sports 2018
Master of endurance sports
Junior champion OCRV for WSS 2022
1st place Extreme Dog Race
1st place Wild Grizzy race
Pedigree
Grand Ch BG, Multi CH (Balkan, LT, BG, RO, PL), JCh PL

MADISON P'tits Loups d'Amour

Multi CH (DE, CZ, FR, DK, LU), Multi JCh, TAN FH2

Juan Aiko P'tits Loups d'Amour

Juan of Skah Dakota

Born to Win White Dante

JWW 05

Ezira-Shideezhi Of Skah Dakota

Chérie Perly Vom Sutumer Grund

DT CH, BHVT, SCHH1

Moon Shine Miraja (Capo)

D CH

Perlayne vom Sutumer Grund

Hangun P'tits Loups d'Amour

CAC

Lothians Vencer Kann Schimmelpfeng

Hunther White Memphis Kann Schimmelpfeng

Juma Green Kann Schimmelpfeng

Angun White Viper du Bois des Ternes

JCh NL, LUX

Apache of White Energy

TAN

Viper du Bois des Ternes

CH HU, Multi JCh (PL, BG, SRB, HR, Balkan), Grand JCh BG, Poland club winner 2017

DIAMOND PRINCESS del White Conero

CH IT, CH Repro

Bacco di Casa Rovai

CH IT GPE

Quai Yukon vom Sutumer Grund

WW 2010, CH Nord, SE, Rally-B

Crunch vom Stainzer Schilcherland

WW 2011, Europa winner 2017

Aliena White Princess vom Sutumer Grund

True Love of White Wolves Home

White Wolf O'Connor

Kiss me Babe of the White Wolves Home

Multi CH, JCh, JTopdog, TANC, BH

Rosehill Duchesse de Brabant

EST JW06, Balt CH

Born to Win White Angel

AKC CDX, UKC CDX

Royal von Tasz Classic

JCh EST, V CH EST

Elvira Taien

Coolabah Glamour Girl Mist

Royal Damien of Teen's Desire

Coolabah Bunya Mist