Litter "G"ummiBears Niktel (CZ)
* 2022-11-24
our own puppies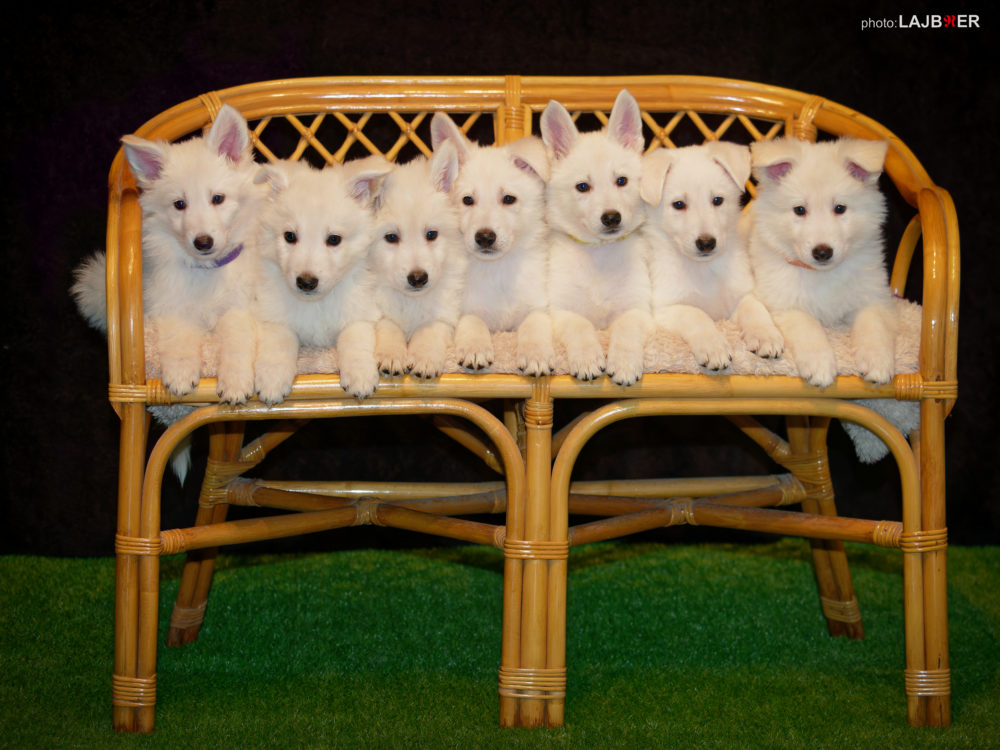 We welcomed litter G after our DIAMOND WHITE ALASKA Dancing With Wolves. This is her second litter. The stud is short-haired, so we are expecting puppies both short and long-haired. The father of the litter is the one and only OZZY KAY Od Semberije, active, tallented and good-looking 3-year-old male awarded by many titles in show and working grounds. He does sports obedience trainings and has passed many exams, including the highest ones – BH-VT, ZM, IGP 1, IGP 2, IGP 3.
Pedigree of the puppies on pedigreedatabase here.
Litter G was named "Gummi Bears", as they are very active and unstoppable. It suits them perfectly.
Most puppies have left us already, the last one is waiting with us to be able to travel to her forever home in China.
Health:
father Ozzy: HD A, ED 0/0, MDR1 +/+, DM n/n, LTV 0, OCD n/n, LTV 0 – normal, SA 0 – negative, DVO 0 – free, MH n/n, Dwarf n/n, DNA, FGF5 N/M1 (long coat carrier), full dentition, scissor bite, 65 cm
mother Diamond: HD A, ED 0/1, MDR1 +/+, DM n/n, full dentition, scissor bite, LTV 0, 59 cm.
Parents' description:
Diamond has excellent pigmentation all year round, extremely dark eyes, strong body structure, deep chest. She is not afraid of anything and is very easy-going. But if you offer her some kind of action, she is immediately prepared to run a race e.g. She is the first female in the history of the Czech WSS club who achieved the title "Master of endurance sports" for her lifelong achievements in the sports field. She also won the yearlong competition for sports dogs and is the "Sports TOP dog 2018". She runs canicross, dog OCR and scootering with us. She is a great canicrosser, has a big heart and never gives up. She loves the adrenalin of racing and overcoming different kinds of obstacles on OCR races.  Towards people she is open, extremely friendly and self confident.
At shows she achieved many great awards and titles. She is the Grand Champion of many European countries. She has great health results. She has already had 1 litter of 5 beautiful puppies – the "C"andies litter – in April 2021. You can read more about Diamond and see her complete photo gallery and many videos here. Her first litter is to be seen here.
Ozzy is of well-ballanced character, extremely easy-going, fearless, healthy and self-confident. He loves people and other animals. In the show ring he looks very majestic. He reached the titles Grand Champion, Multi Champion as well as Junior Champion of several countries, je carries the title of the Czech Club Champion and is expecting Interchampion title, the highest show award of all. He has a year round dark pigmentation, straight topline and legs, correct body built and elegant typical shepherd head. In his pedigree, there are both show and working bloodlines of WSS, he has many legends among his ancestors. He managed to take the best out of each line and is a perfect show-working dog. He has his own FB page with several photos, videos and photos of his progeny here.
Puppies:
All puppies in our kennel undergo a thorough socialisation programme with many stages. We concentrate on good socialisation of puppies, so that puppies from us come self-confident, socialised and fearless. We start very early, just a few days after birth and continue with socialisation in accordance to the age and level of development of the puppies. Each stage is videoed and we send all the videos to the future owners, some of the chosen videos can be also found on our Youtube channel, or on our kennel FB page. You can also watch the videos in any of the previous litters.
Gummi Bears experienced these socialisation stages so far: 
Stage 1: Touching, lifting, handling, opening the mouth, patting, cudling, and getting used to any type of care
Stage 2: Cuddling with children
Stage 3: Claw trimming and filing
Stage 4: First soft toys
Stage 5: Obstacles
Stage 6: Getting used to uneven surfaces
Stage 7: Loud sounds- bangs, hairdryer, vacuum cleaner, vysavač, music, fireworks…
Stage 8: Reaction to being alone
Stage 9: Crate training
Stage 10: First "trip" out of the whelping box
Stage 11: Car rides
Stage 12: Training of leaving at a certain place
Stage 13: New environment and play area
Stage 14: Hygiene, litter training
Stage 15: Bathing and drying
Stage 16: First porridge
Stage 17: Hanging and moving toys
Stage 18: Watching the busy street outside
Stage 19: Giving medicine – deworming
Stage 20: Visits to the vet 4 + 6 weeks, Vet check + vaccination 12 weeks
Stage 21: Testing the drive to work
Stage 22: Socialisation visits
Stage 23: Socialisation with other dogs
Stage 24: Flying objects
Stage 25: Outside
Stage 26: Introducing B.A.R.F.
Stage 27: First training of obedience and self-control 
Stage 28: Volhard puppy aptuitude test – videos: yellow boy, brown boy, black boy, red girl, blue girl, white girl, turquoise girl
Stage 29: Watching the night traffic from very close
Stage 30: A trip in the trolley to the forrest
Stage 31: A trip in the trolley to the city, shopping centre, restaurant, shops
Stage 32: Snow
Stage 33: Walking on grid surfaces
Stage 34: Training of leaving home alone
Stage 35: Leash walk in the park + training of "come" command
Stage 36: Leash walk – busy street
Stage 37: Group training of self-control and obedience
Stage 38: Home obedience training – individual
Stage 39: Nosework
Stage 40: Robotic vacuum cleaner
Stage 41: Muzzle training
Stage 42: Bus ride
Stage 43: Elevator
Stage 44: Waiting in front of the shop
Stage 45: Caretaking – cleaning ears, eyes, brushing,
Stage 46: Puppy school – obedience
Stage 47: Puppy school – obstacles
Stage 48: Balance exercises (dogfitness)
Stage 49: Other animals – interspecies socialisation
Stage 50: Shopping centre – sliding doors, escalators (flat or with stairs), elevator, people shops…
Stage 51: Obstacle track
Stage 52: Checking and showing teeth, opening mouth
Before the puppies leave us we do Volhard puppy aptitude test, where the character and future abilities of the puppies are tested. How we test the puppies can also be seen in the videos from the previous litters. According to the results of the test and the future plans of the new owners for the puppies we choose the best family for each puppy.
All puppies already have their perfect new homes. We are planning another litter for May 2023. Reservations launched. We are looking for active owners, ideally with interest in any kind of dog activities (shows, sports, obedience, canistherapy, rescue…). We choose the potential owners very carefully so that the puppies have the best homes, which is very important for us. More about the planned litter "I" here.
Pedigree
Grand šampion BiH, Junior šampion Slovenska, Šampion BiH, CZE, SK, Klubový šampion České republiky, Vítěz třídy, Krajský vítěz, Oblastní vítěz, Šampion Federace BiH, Club Winner; CAJC, CAC, r. CACIB, CACIB, Národní vítěz, BOJ, BOS, BOB

OZZY KAY Od Semberije

JCH., IGP1, BH-VT

Bruce Artay of Highland

BIS ,J.CH, CH SRB, ZTP , BH

Kotori vom Terlüner Schloss

BS'07, ES'08, VWW'09, IPO 3, SCHH 3, VPG 2

Bossanova von White Angel

Eirlys vom Terlüner Schloss

Ch Rumunska, CAC, Res.CAC, Výborná, Velmi nadějná

Thaya Berger Acabo Czech

C.I.B., GCH., CH., ZZO, ZOP, BH, ZPU 1, BGH 1, ZM, ZVV1, IPO-VO, IPO 1, FPR, IPO 2, SPr1

Arezzo Bohemia Star Moraveč

JCH.

Nessie Acabo Czech

Ice Princess od Semberije

INTER CH., MULTI CH.

Yole vom Sutumer Grund

MULTI CHAMPION, HDA, ED0, MDR1 +/+, DNA, DM FREE, TAN, CSAU, TST

I Love Boy P'tits Loups d'Amour

Only You vom Sutumer Grund

CH, JCH

Beau Beau

Lukas

Alexis

Grand Champion Slovakia Grand Champion Bosnia and Herzegovina Grand Champion Kosovo Czech Club Grand Champion Champion Czech Republic Champion Slovakia Champion Lithuania Champion Serbia Champion Bosnia and Herzegovina Champion Kosovo Champion Montenegro Czech Club Champion Junior Champion Slovakia Junior Champion Lithuania Open Slovakia Dog Cup 2018 - 1st place (breed winner) BOG Junior BIG 1 (Best in Group) multi BOB Junior BOB(BOJ) multi CACIB/CAC/CAJC Child and dog, 3-9 years - 1. place The best WSS in endurance sports 2018 Master of endurance sports Junior champion OCRV for WSS 2022 1st place Extreme Dog Race 1st place Wild Grizzy race

Grand Ch BG, Multi CH (Balkan, LT, BG, RO, PL), JCh PL

MADISON P'tits Loups d'Amour

Multi CH (DE, CZ, FR, DK, LU), Multi JCh, TAN FH2

Juan Aiko P'tits Loups d'Amour

Juan of Skah Dakota

Chérie Perly Vom Sutumer Grund

Hangun P'tits Loups d'Amour

CAC

Lothians Vencer Kann Schimmelpfeng

Angun White Viper du Bois des Ternes

CH HU, Multi JCh (PL, BG, SRB, HR, Balkan), Grand JCh BG, Poland club winner 2017

DIAMOND PRINCESS del White Conero

CH IT, CH Repro

Bacco di Casa Rovai

CH IT GPE

Quai Yukon vom Sutumer Grund

True Love of White Wolves Home

Multi CH, JCh, JTopdog, TANC, BH

Rosehill Duchesse de Brabant

EST JW06, Balt CH

Born to Win White Angel

Coolabah Glamour Girl Mist
Puppies