WSS Specialty Show + Youth Check
2019-03-23 - 2019-03-24
Dětřichov, CZ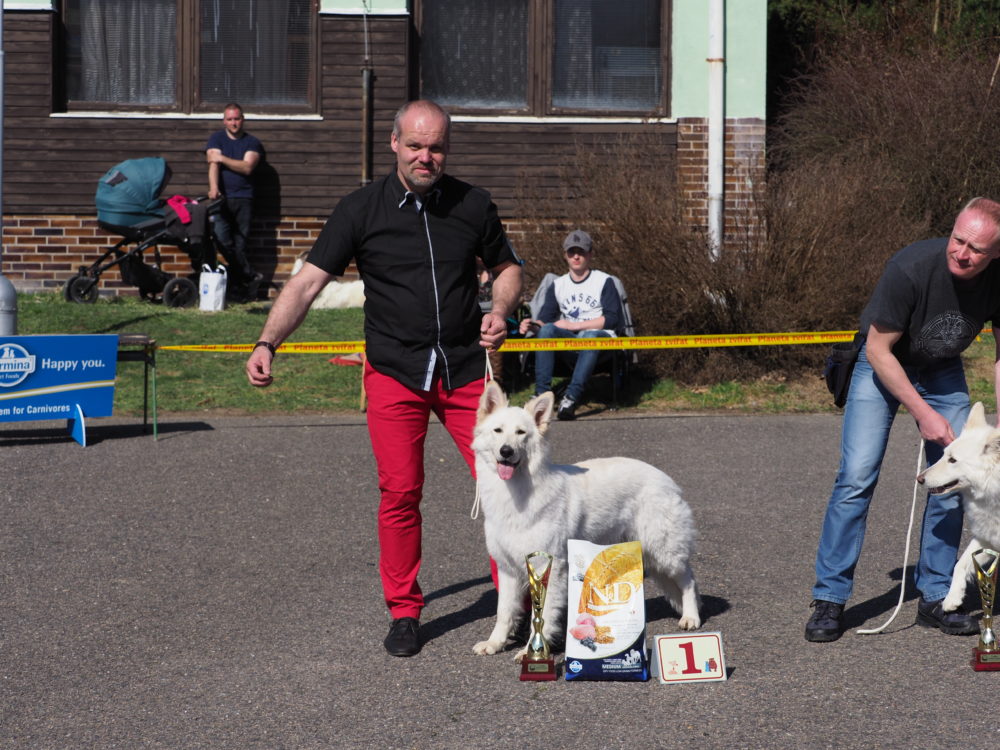 This year's specialty show started with the award giving for the club competitions for the last year. After the changes in scoring the sports actvities it was the historically first year of most of the competitioins. And we are over the moon, because Daimee became the first WSS to be awarded the title for the "Most hard working dog in endurance sports in 2018". She took part just in 2 canicross races last year, but gained the most points of all. For this triumph she got a cup and a diploma at this shos. She is not only a beautiful and show succesful young lady, but she is also in great condition, very fit and a tallented tireless runner.
After this the judging started, 95 WSS was entered. The judge Mrs. Viera Staviarská (SK) was quite strict, which we always welcome. The short coated type of coat went first, so we had plenty of time before it was our turn. So as usual we took our running equipment and went for a run in the woods nearby.
Both Daimee and Frozen are in the ring very sovereign and well experienced, so now it is a pleasure to present them. Even from the photos the internal peace and calmness can be easily seen. After the running in the woods, they are completely relaxed and we can entirely enjoy the show together. They also both took part in the competition "Child and dog 3-9 years" with our Natálie and her school mate (8). For Nicol it was a show premierre and for Frozen the first start in this competition, too. It could be very well seen that they let themselves easily present even by such young unexperienced handlers. They proved their great character.
Vendetta is unfortunately still too young for running, her legs and joints must still be protected. But that means that she is full of energy in the ring and in combination of her teenage period, she sometimes makes fun of us 🙂
The next day both younger females passed the youth check successfully and are a step closer to getting their future breeding licence.
Complete results:
DIAMOND WHITE ALASKA Dancing With Wolves (18 m)
– Exc.1, CAC (intermediate class, 1/5)
FROZEN Of Trebons Berger Blanc (12 m)
– Excellent (junior class, 18 females in class)
– passed the youth check successfully – has full dentition, scissor bite, height 59 cm, excellent assesment of the comitee
VENDETTA Od Bijelih Andela (8 m)
– VP4 (puppy class 4/4)
– Passed the youth check successfully – has full dentition, scissor bite, height 56 cm, great assesment of the assessed criteria