Summer Extreme Dog Race, 2021
2021-08-20 - 2021-08-21
Žernov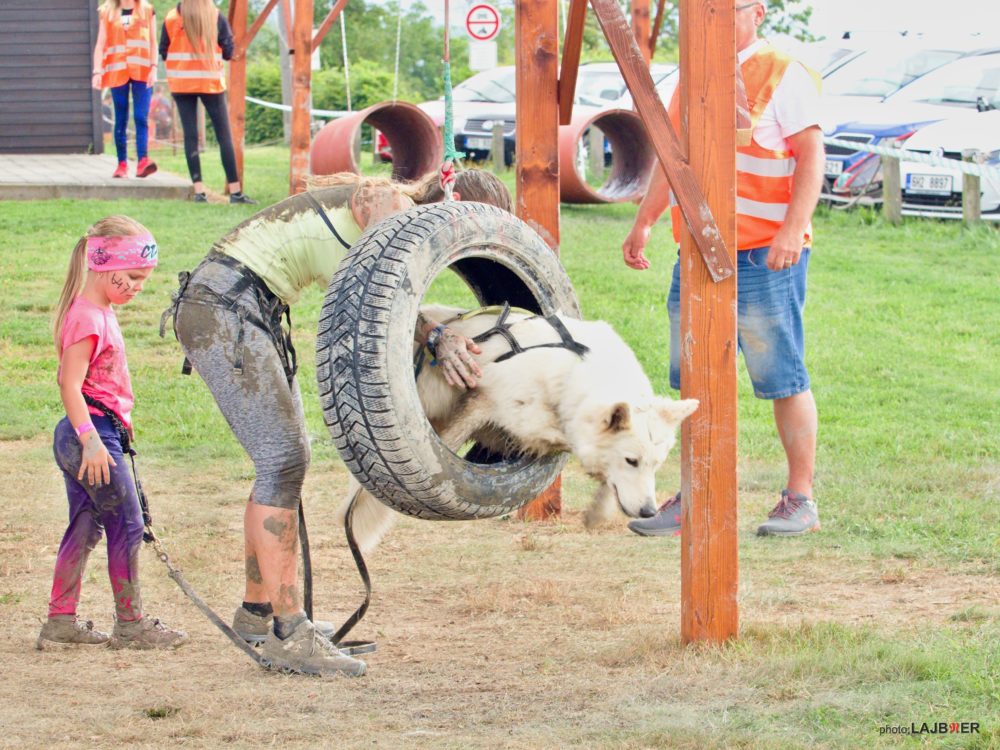 We hardly managed to catch the breath after last weekend's mountain canicross races and we set off to yet another set of races this weekend – the extreme obstacle racee in Žernov (CZ)
–
. There was a night run and the day races – long, base, junior and family, so we raced with our whole family. And because one event during one weekend is not enough, we also attended the international dog show in Bratislava (SK) on Friday, where Vendetta finished the Slovak Grand Championship
(she got Exc1, CAC, CACIB, BOS) and just a few hours later, she covered herself in mud completely.
We started at the night race at almost 10 p.m., so at complete darkness
. It was the first night obstacle race ever held in the Czech Republic. No easier obstacles, difficult terrain, extreme hills up and down, river crossings, mud on a track of nearly 4 km, so a really hard race. But we enjoyed every bit of it, Axel and Vendetta ran like mad, easily overgoing all obstacles and helped us a lot. This time we ran all 4 together (Erik with Axel and me with Vendetta) and it was grea, they love to run together. Erik + Axel achieved great result with their 2nd place in their cathegory!
, Vendetta 7th place out of 33 women in the cathegory 19 – 39 years. I am looking forward to next year, when I will be finally able to start in the cathegory 40+, which I would win with the time I had this year.
In the morning I starten in the race for 6,7 km with Frozen. She is absolutely perfect, canters continuously forward, flies over obstacles and shows how much she enjoys it.
. We managed everything together (apart from javelin throwing, I am really bad at this
) and we came to the finish 5th out of 64 women.
At noon Erik started the long track (10,4 km) this time with Diamond. They have never ran in a race together before, so he was surprised, how great she is. He said she was like a locomotive
. It was a very pleasant surprise that they won 1st place in the race together in the cathegory men 40+!
The next to race was our daughter Natalie (10). Track shortened to 2 km, but obstacles remained the same, as difficult as for the adults. They managed great and finished on a lovely 5th place out of 19 juniors (8-15 years).
And last but not least, our younger daughter Caroline (5) started with Frozen again. Track and obstacles the same as juniors
. They enjoyed it together and with some help from me overcame all obstacles, just the mud wasn't Caroline's favourite, we must train that for next time
.
The whole race was perfectly organised with interesting obstasles, difficult and nicely done, lovely tracks and great atmosphere. We are looking forward to the winter version of the Extreme dog race in December
.