Prague Expo Dog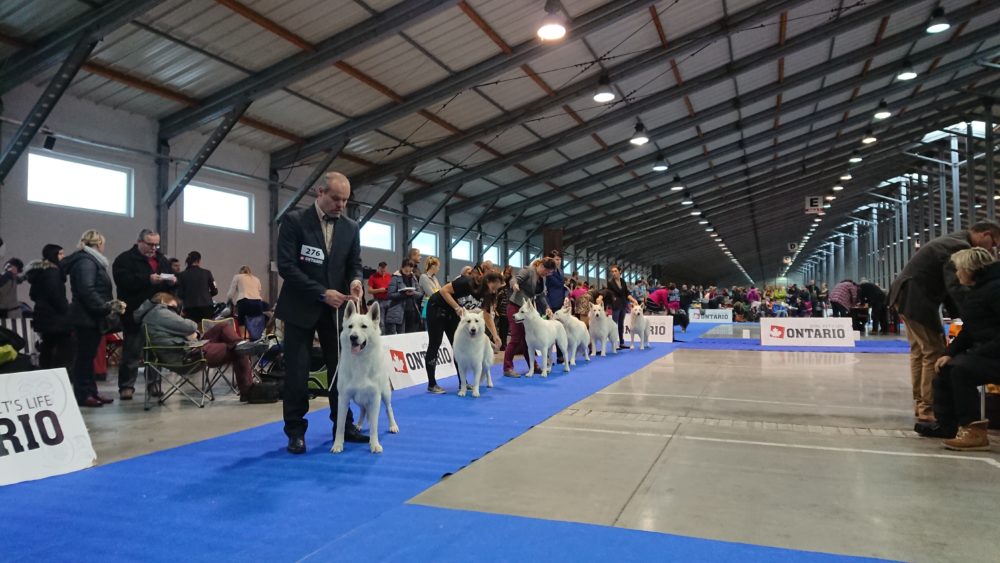 One of the most visited shows in the Czech Republic – 59 white shepherds were entered. We went with all four of our dogs, for the first time, too. For the youngest Vendetta it was her show premiere, in only 4 months of age and she managed it very well. She was not afraid, did not do any humbug, when she was supposed to stand – she stood, when she was supposed to run – she ran. She took no notice of anything else than her mistress with the treats. 🙂
As for the organisation, it was a very difficult show for us. Eg. first it meant to order another kennel box, because for the four of them, one would not be enough. Then, our van broke down, so we had to go with our camper car. At the last moment our babysitting opportunity dropped out, so we had to take also our 2 small children. So apart from 4 dogs, 2 kennel boxes and all the show equipment, we had to take also 2 children, a bag of toys, tablet, a bag of snacks and two chairs 🙂 But despite all this, the Prague autumn show was enormously successful for our gang.
Results:
AXEL Donnevara – champion class (6 males) – Exc.1, CAC, res. CACIB
DIAMOND WHITE ALASKA Dancing With Wolves – junior class (1 female) – Exc.1, CAJC, BOJ
FROZEN Of Trebons Berger Blanc – puppy class (9 females) – VP 2
VENDETTA Od Bijelih Andjela – minor puppy class (4  females) – VP 1 + selection among 6 best in the final competition for BIS Puppy from the total of about 60 minor puppies
Thanks to the judge Mr. Milan Krinke (CZ) for great and thoroughful judging, loud commentary to each dog and comparison of pluses and minuses of each individual.
The only pitty was, that we could not go jogging with the older dogs before the show as always, because supposedly they would not let us even enter the ring after that with all the mud on us :-D. But we managed very well even without relaxing during jogging. Unfortunately the weather is not always suitable for running with a white dog before the show, but that is something you always have to count with at this time of year.