Kaolin dog race spring, 13. 5. 2023
2023-05-13
Jižní Lom, Sokolov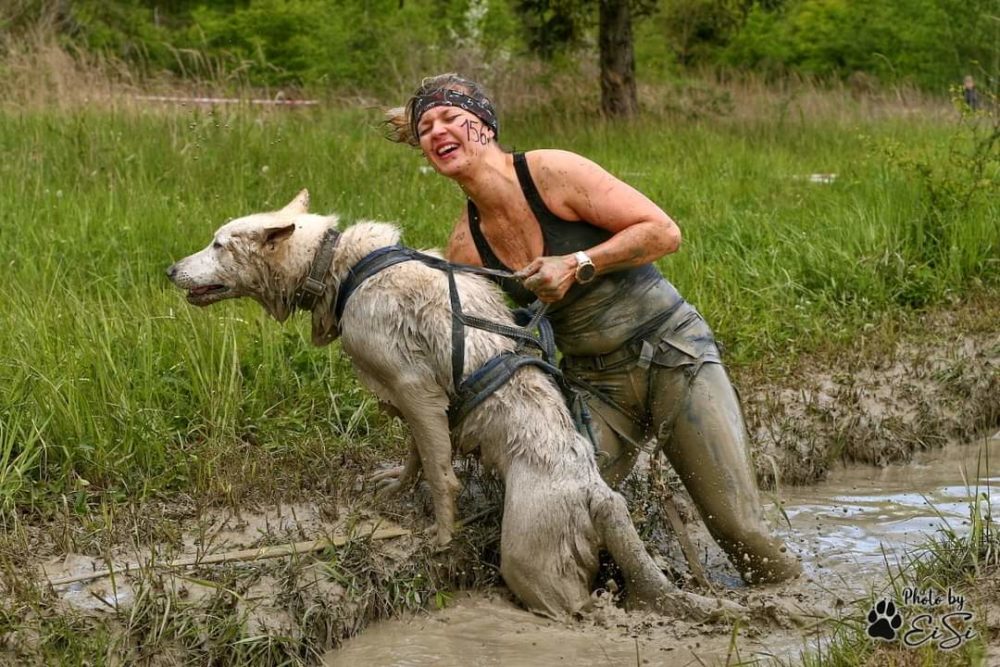 Exactly a month after the previous race we set off to another one with our white racing team. This time we exchanged the mountain terrain from Ještěd for the muddy track in a quarry in Sokolov. The second race for 4,5 km of the serial
Dirty dog challenge
2023 offered us especially lots of water mud and adrenalin.
We love to bring new racers to this sport, so we also took a 11-year old friend with us Josefína Vrtalová, who tried what it feels like to run in mud for the very first time. Previously she ran one canicross race and now she tried an obstacle one and she did very well. Among juniors she finished 3rd. Well done! We borrowed her our Skazka, as her own WSS Lumi is still too young for running. Our daughter Natalie (12) ran with Diamond and they were wonderful together. They won the gold medal.
Erik Lajbner chose experienced Axel and ran the race in the time under 30 mins. They finished 5th out of 28 men. I ran with Bella and came 11th/68 women. Bella (Axel's daughter) races only the second season and there is a very big shift from her performance last year. Nowadays she is becoming a very good runner and helps me a lot. She is not afraid of water or any obstacles, so she in now a perfect companion for any crazy activity I think of.
Our white team Niktel White Warriors completed also Vlastík with Destiny and Naďa with her Barnie (both Axel's children). We all enjoyed the race together. Dogs were pleasantly tired and satisfied, onlookers amused and we were muddy all over. And that's the way it should be. We live just once, so let's do what we love.