IDS České Budějovice
2018-10-06
České Budějovice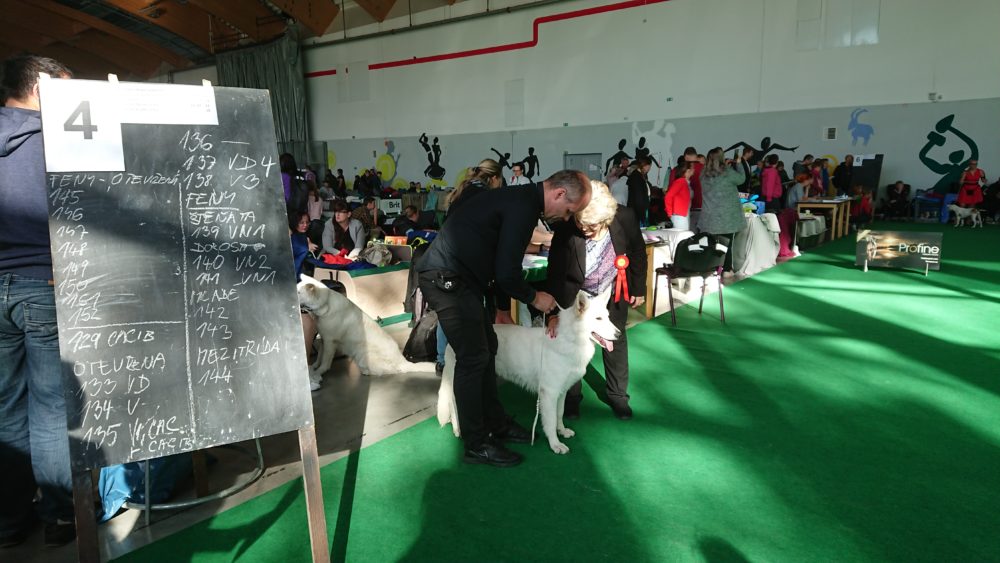 International dog show in České Budějovice went well in a very peacefull and friendly atmosphere. After our standard morning run Daimee went to the ring very relaxed and in good mood. Frozen does not go running with us yet, as she is still too young and we must protect the legs and joints. So she just went for a walk around the exhibition area and had a look around meanwhile. Only these two girls were entered to this show, Axel guarded the hose at home and little Vendetta still did not have her full vaccination.
Results:
– Frozen Of Trebons Berger Blanc – VP1 (1/2 puppy class)
– Diamond White Alaska Dancing With Wolves – Exc. 2 (2/2 junior class)
And this time we had a special opportunity to present our own grandson in the ring – after our stud male Niktel White Miraja – it was Cézar Pet's Wolf, (due to the high level of pregnancy of the owner). Even though we have never met before, he was great, completely relaxed and willing to do whatever we told him to do. In the end he also got a very nice judge report and great result – Exc. 2, res. CAC (2/6 open class).
Thanks to the respected judge: Gabriela Ridarčíková (SK)