Hard Dog Race 2022
2022-09-03
Ski areál Králičák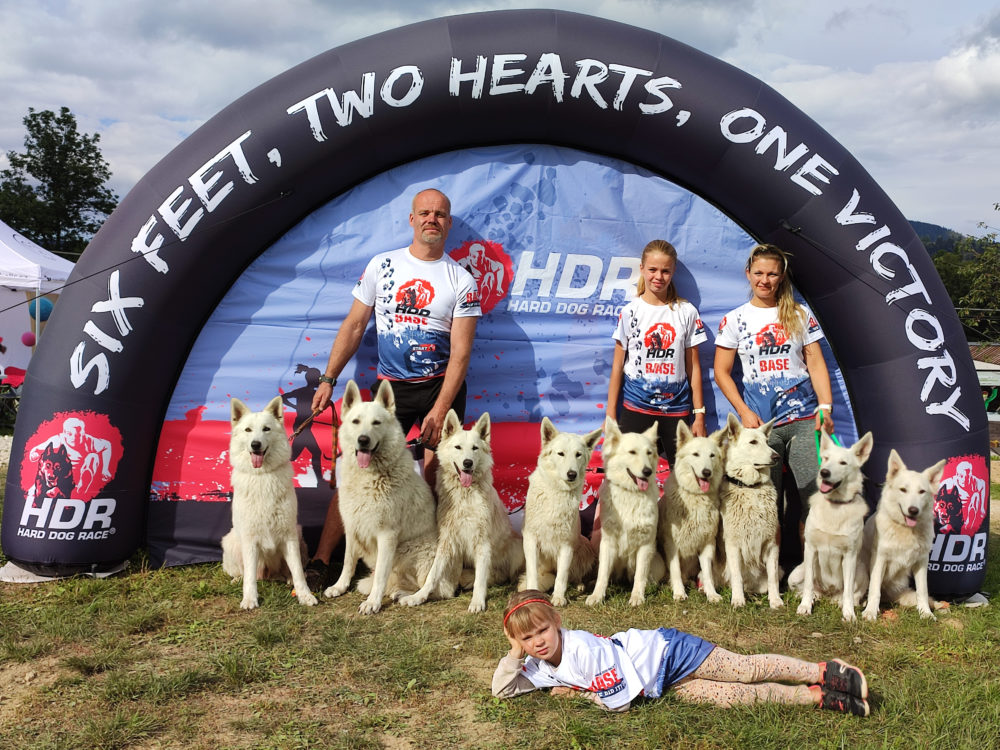 Yes, we are crazy. But we are so crazy, that we enter one of the hardest obstacle races more than once in one day. Good we have so many dogs.
The track was almost 6,5 km long, elevation 320 m, 16 obstacles. First 4 km only uphill, the rest steep downhill run full of uneven places, stones, rocks, roots and other tricky things, often hidden in high grass. We started with big respect and worries if we manage to finish safe and sound. We knew the race would be hard, we have no problems with that we like challenges. But we were afraid about our ancles. But finally everything went well, we slowed down a bit in the the downhill parts, to be sure not to get hurt. It worked out fine, we overcame the obstacles easily, dogs helped us as much as they could, the penalty squads came only when we didn't manage to hit the target while throwing. The atmosphere was great, the day passed so fast, we were so busy all day. We were either walking the dogs, giving them pre-drinks or recovery drinks, or were in the race, there was not much time for anything else.
So this year's score: 
Erik
started 3x, Mirka 2x and our daughter Natalie 1x.
The goal was to run at least the first race in the lime limit of 1 hour, and the others just run for fun and enjoy. Finally it got out of controll and all our runs ended under 1 hour. Mirka had surprisingly the second race better time than the first one. So from now on we will have to run every race more than once so that our results get better and better. And we weren't even too tired, nothing hurt us  after all this running.
There were also our offspring in the race. Jiří Homola ran with Cenny Candy, Renata Hallová with Destiny Drafgon and Vlastimil Halla with Amelie ran twice with our Skazka. Thanks to everybody that you follow in the footsteps of the pup's parents. At the end of the day a group photoshoot of the whole white swiss shepherd pack took place. We managed to take a photo of 18 WSS who ran in the race and were able to stay until the end. Big thanks to the organisers, helpers, cheerleaders it could not happen and be so great without them. You were great everybody!
Our complete results:
Erik + Diamond, time 49:40, placement 30./178 men
Erik + Amiga, time 50:36, placement 37./178
Erik + Axel, time 51:30, placement 42./178
Mirka + Bella, time 51:32, 24./453 women
Mirka + Frozen, time 52:58, placement 32./453
Natálka + Vendetta, time 58:09, placement 81./453 women, because the junior cathegory wasn't opened there, so it is absolutely fantastic result for her.