Dog Epic Race 2021
2021-08-13 - 2021-08-15
Rozhledna Bramberk, Jizerské hory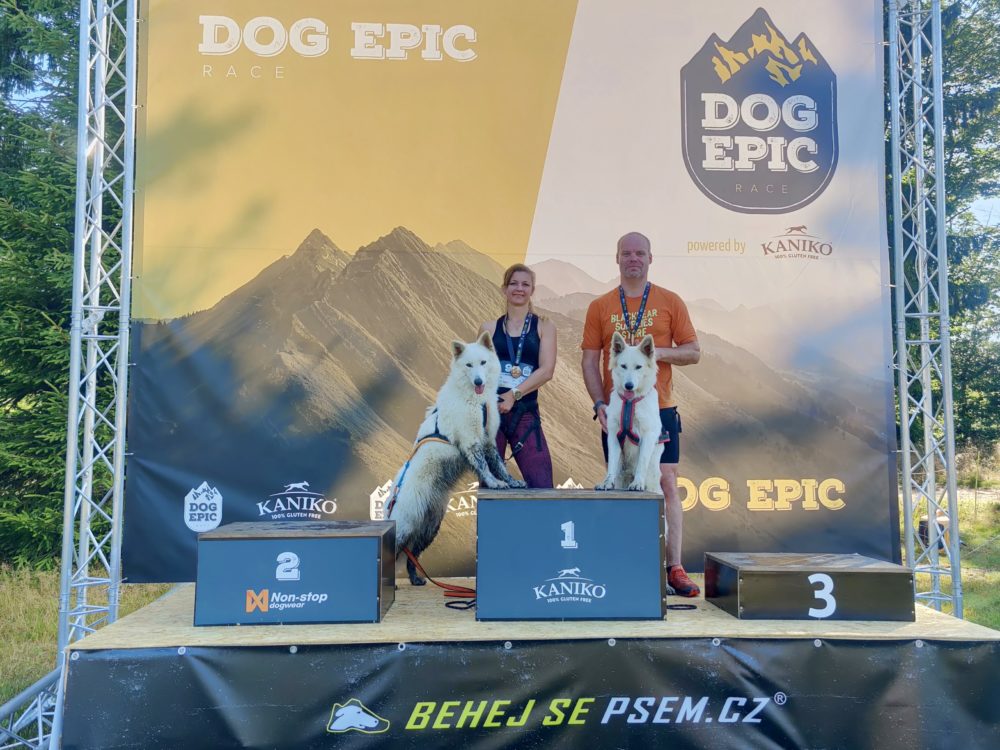 All in all Vendetta and I we were in motion 2:29:15 during the whole weekend and I was pleased that we were just under 3 hours for all 4 stages. Erik had some troubles with aching Achilles tendons so they had to slow down a bit, but they didn't give up and finished the whole race. This finisher medal is very well deserved for everybody who finished the race. Thanks to the whole realisation team for perfect organisation!
We are looking forward to the next year already.
The hardest canicross mountain 4-stage race in the Czech Republic took place this weekend and we were there.
Absolutely unforgettable experience full of effort, sweat and emotion. Within 48 hours we ran 28 km in 4 stages and elevation of 1000 m. Top canicrossers from the whole Europe were there. We knew it wouldn't be easy. The aim this weekend was just to survive, not give up, finish the race and to enjoy ourselves. We managed!
The atmosphere throughout the race was fantastic, we met many great people and enjoyed every minute of it. I started with Vendetta, Erik chose our youngest runner Skazka. It was forbidden to change dogs between stages, all stages had to be run with the same dog, to make it fair to everyone. Between the stages we relaxed a little and mostly we walked, fer or watered our other dogs, as we had to take along the whole pack of our 9 dogs to be able to leave for the whole weekend.
. stage – immediately after arrival on Friday evening at sunset, 4,4 km with elevation 140 m, interval start. The final uphill run was endless. I made a faux-pas at the start, I didn't put on the leash correctly and when we started, Vendetta went loose and ran forward. Fortunately Erik started just 15 s before us and when she came to them, she stopped. Fortunately we weren't disqualified and then continued the race normally all together. Our dogs are team players and they like to run together. . Our tome a little over 24 min, pace 5:29 min/km, which I was very proud of with this elevation.
. stage – at 8 o'clock in the morning, 6,7 km, elevation 270 m, group start. I was afraid of the exhaution from the previous day, but luckily we managed to regenerate and it was very easy to run. For the first time in my life I wasn't afraid to run downhill, I trusted my new shoes, didn't slow down and sped down. This stage had the longest uphill run in one part. I had to use my hands to go up, I know that uphill running is my weak side. Time 43:38 min, pace 6:31 min/km.
. stage – night, start at 8:30p.m., similar track to the first stage, 4,4 km, elevation 140 m, interval start beginning with the slowest runners. We only had a few hours to regenerate, but still the muscles did not hurt. Surprisingly I ran so lightly and easily, it felt great. Our speed at the start was 2:36 min/km. I tried the headlight which I got for Xmas for the first time and it was unbelievable how strongly it shined. I saw almost better than at daylight. I even improved my total ranking to 23rd out of 43 women racers in my cathegory, time 25:27, pace 5:47 min/km.
. stage – the final king's stage, start at 7 a.m. according to the Gundersen method, 12,2 km, elevation almost 500. We had to get up before 5 a.m. so that we managed to water, walk and feed all dogs and prepare ourselves to the race. We just had a half of a banana and a little grapewine to have some energy. During this stage we climbed to all 3 mountain ridges in the surroundings. The track was various, we could enjoy lovely views. There were a lot of technical passages with steep hills up and down, rocks, mud, roots, and also road crossings. I would never believe we could manage to come to the finish within an hour and a half, but we fought ans yes, we did it – our final time was 1:26:00, pace during the whole stage 7:00 min/km.