Danube 3x CACIB
2018-10-26 - 2018-10-28
Bratislava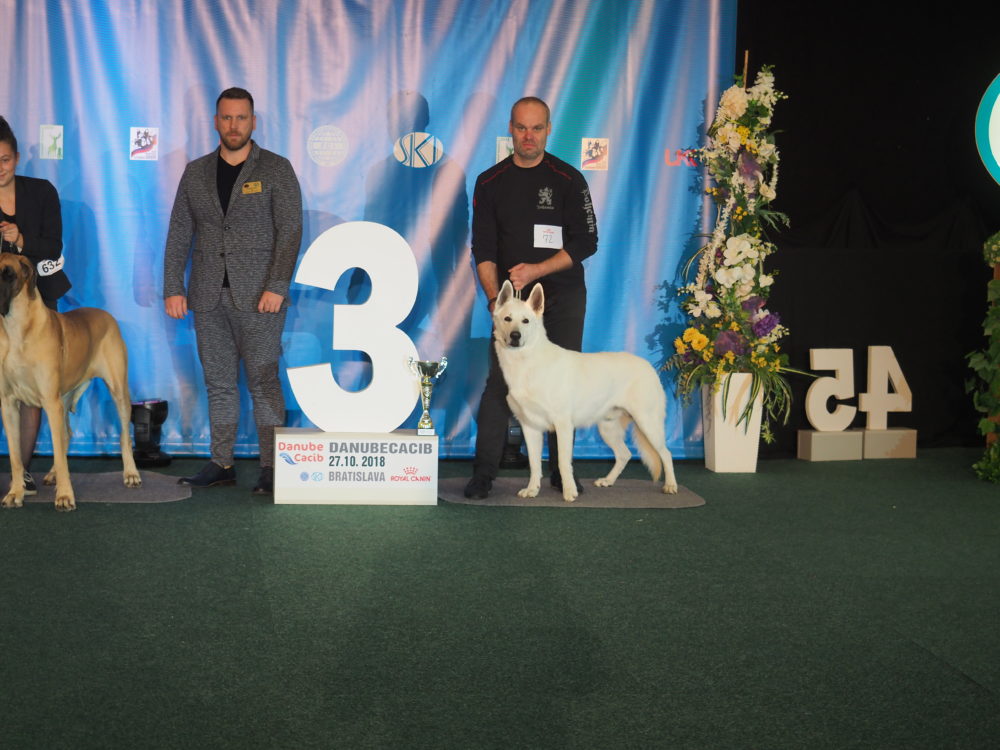 For the 3 International dog shows in Bratislava, we set 3 main goals – to finish the Slovak Grand Champion for Axel, to finish the first  championship for Frozen – the Slovak Puppy Champion and to socialise our youngest Vendeta in the show environment. Proudly we can say that all our goals were fulfilled and in many respects the shows went far over our expectations. All the results and show behaviour of our dogs were great. And it is fascinating, that our breed was always among the 10 most numerous breeds at these three shows.
Again we had the opportunity to present our grandson after NIKTEL WHITE Miraja – Cézar Pet's Wolf. He did quite well, showing from a stranger did not make him any problems and he finished with two second and one third place in the open class.
Also we had with us our youngest four-legged girl VENDETTA od Bijelih Andjela, who had her main task to get used to show environment with so many dogs, people and new impulses. She managed everything perfectly, her calm and balanced charecter showed up and it seemed, that  she has been born in this environment. Towards people as well as dogs she was very open, not afraid and everything interested her. She also got the chance to try the work in the ring (out of competition) and she was just amazing, natural and she knew perfectly well what to do, as if she has done it a hundred times before. She is simply "Best of the Best".
Results:
AXEL Donnevara, 2,5 years
💥Became the new Slovak Grand Champion💥
26.10.2018 – Exc. 1, CAC, res. CACIB (Champion class), judge Saija Juutilainen (FI), Best brace competition,
27.10.2018 – Exc.1, BIS III. (Honour class), judge Branislav Rajič (SI), final ring Ondrej Dudáš (SK), Best brace competition
28.10.2018 – not entered the ring
---
Frozen of Trebons Berger Blanc, 7 months
🏆The new Slovak Puppy Champion🏆 (Her first finished championship)
26.10.2018 – VP1 (puppy class, 1/2),
27.10.2018 – VP1 (puppy class, 1/2),
28.10.2018 – VP1 (puppy class, 1/2),
---
DIAMOND WHITE ALASKA Dancing with Wolves, 13 months
26.10.2018 – Exc. 1, CAJC, junior BOB (junior class), Best brace competition
27.10.2018 – Exc. 1, CAJC, junior BOB (junior class), Best brace competition
28.10.2018 – VG1,