2x CACIB Lučenec (SK) 2019
2019-05-04 - 2019-05-05
Lučenec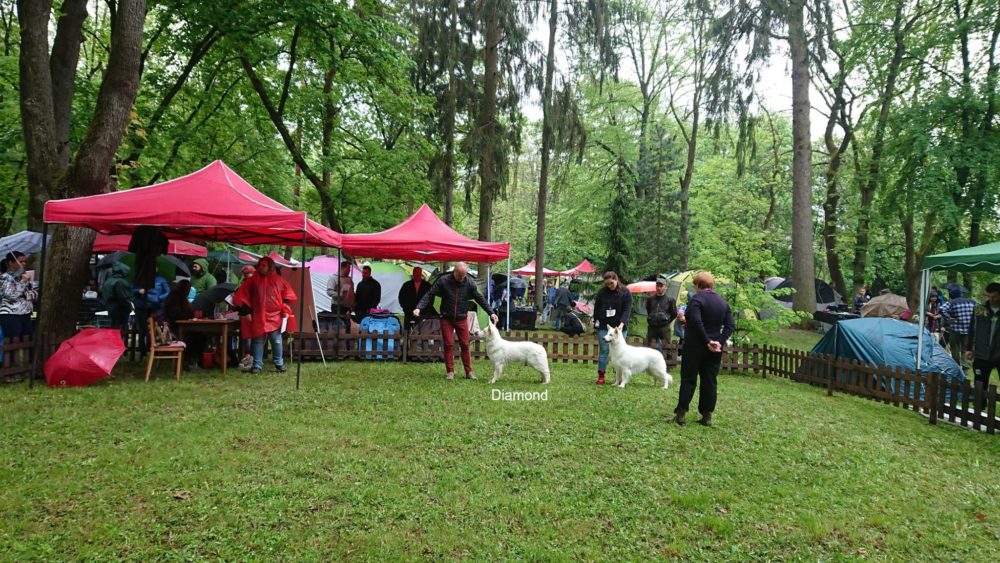 Outside shows are great, we usually enjoy them. But it mustn't rain all day, otherwise the charm of the show is a little lost. Unfortunately this year's Lučenec shows were rainy, a lot. The park, where it was held soon turned into a big muddy arena. And especially with white dogs is the environment like this super fun. It was for the first time in my life when I envied the owners of Czechoslovakian wolfdogs. We were lucky to have taken some pictures of our clean dogs the day before the show at a nearby castle ruins of Divín.
So the first day we got up really early in order to manage our regular run before the first rain came. Just as we finished, the long continuous rain started. One walk from the car to the ring with the dogs was enough to have them soaked and muddy. After tedious drying with a towel and some grooming we managed to get back our (almost) white shepherds. The Hungarian Zsuzsanna Balogh judge was very strict. When she did not like anything she said it aloud. She was not afraid to use worse grades either. Unfortunately, it seemed that she missed to notice that it has been raining since the morning, so her note in the description "coat not in good show condition" sounded a little funny. Maybe we should have used the white powder on our dogs, too, as the other foreign exhibitor did. The judge was evidently impressed by that dog and let him win… and not only his class. But who wants to play fair nowadays? 😠
The next day the weather was even worse. So to maintain at least some white spots on the coat, we skipped the morning run. The judge Peter Firic from Serbia had more understanding for the weather, so he did not comment on our brown "socks".
Vendetta has just reached 9 months, so here we could first compete together with Erik and Frozen in one class. Vendetta was a little surprised, why she was not allowed to run to Frozen and play with her. That would be much more fun than just trotting at the leg. Otherwise it was great, we enjoyed the family battle a lot. The girls divided the victories, one day Vendetta won, the other day Frozen beat her. Unfortunately the title Junior BOB was not granted at this show. All in all we enjoyed the shows just next time we must order better weather. Now we are looking forward to the next outside in Litoměřice.
Total results:
VENDETTA Od Bijelih Andela (9 months, junior class)
Exc. 1, CAJC
V2
FROZEN Of Trebons Berger Blanc (13 months, junior class)
VG 2
Exc. 1, CAJC
DIAMOND WHITE ALASKA Dancing With Wolves (19 months, champion class)
Exc.2
Exc. 2, res. CAC, res. CACIB