CC race Valcha in Harness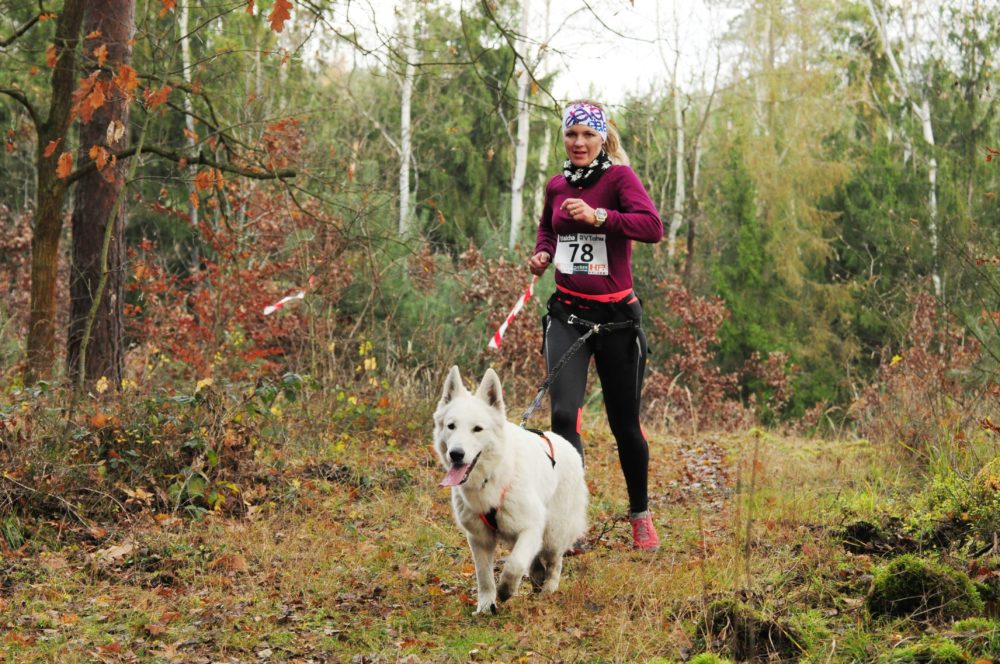 It's true, that the closing of the season took place a fortnight ago, but it would be a great shame not to go for a run, when the weather is still so wonderful and we also still manage to avoid all usual autumn ilnesses, like a miracle. So today, we took part in another canicross race in Pilsen, just for fun.
For the first time in my life I ran a race with a different dog, it was not my fantastic Daimee this time. We wanted to try, how we will match together with our younger Frozen. I think next year more running together will come, if Daimee will have her puppies in the spring, as planned. Frozen has entered just a few races with our daughter Natalie (8 years) so far, but she has never tried a "big" race, so now came her chance.
For the first time, we chose "just" the sprint track for 4,25 km. Before the start she first got a little nervous fromm all the barking and yelling around. But before it was our time to start, she got used to this new environment and she was perfectly calm again. Then most of the track she ran in front of me, just in a very little tow. But I could not speak to her, tel her she's a good girl, because at this moment she would always run back to me. She just needs her internal peace for running. But when somebody overtook us, she always sped up, to catch with them, I had problems to keep her pace then. So I think, it will be even better next time. In total we finished 27th out of 37 women racers in my cathegory, pace 5:27 min/km, nothing to be extra prouf of, really, but we mostly went there for the common experience. And also to try our new harness, it seems perfect. Thanks to Hela Levíčková
After finishing the race, she went for a jog with our daughter Natalie (8 years) on the shortest track 2,9 km. They did very well. Natalie fell down several times on the wet track, but in spite of this, both looked very satisfied in the finish. And their result was not bad either – 13th place out of 21 women racers (out of which I saw just 2 children). I am very proud of both of them.
So we will see if this was the final closure of the season. Never say never.
Thank you guys for great organisation, lovely track, precise marking of it, pleasant atmosphere… Before we arrived home the results were on-line and before dinner the photos were published, unbelievable. See you definitely some time in the future.