BELLA BEETLE Niktel
* 2021-01-15
breeding female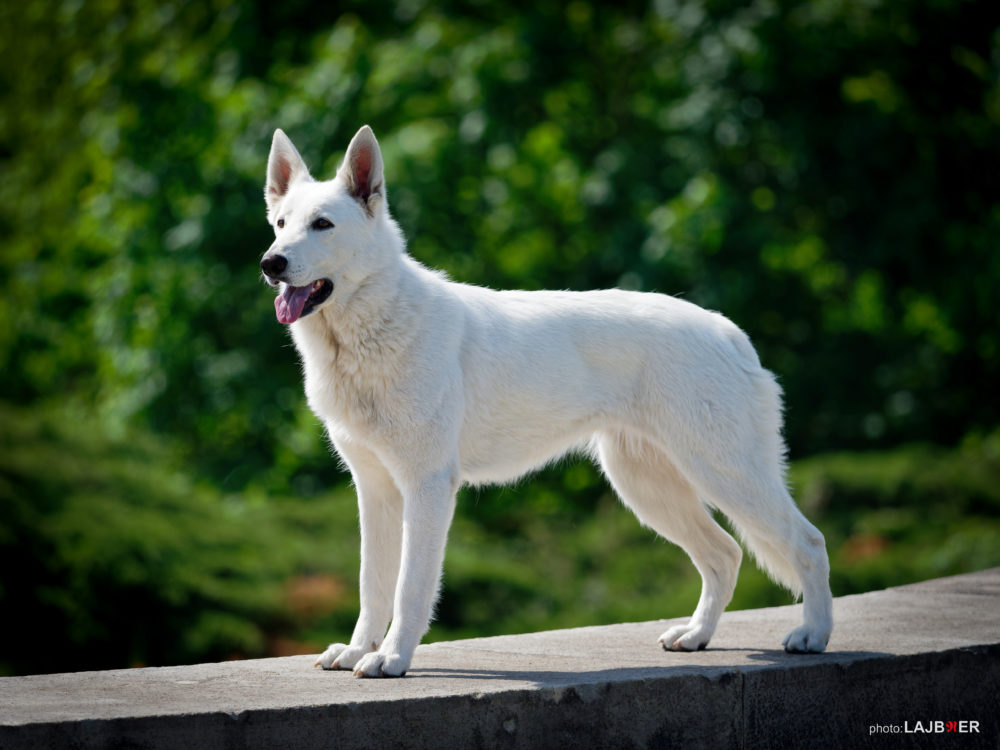 Bella is a female from our own breeding programme, litter of "B"eetles (AXEL x VENDETTA). As we lacked a short haired female in our pack, and this one was the loveliest puppy, it was decided, that she will become our new addition to the pack. Bella is very work-oriented, motivated and has great drive, so we started to take her to obedience trainings since very young. Her skills decelopped perfectly and she made a lot of progress. Everybody was excited about this great little puppy. But she is also very cheeky and stubborn after her mother. If she really does not want to do something, she just won't do it. She has just one master and she will obey and work with him, nobody else.
Bella is one of the whitest WSS we know, her hair is really snowhite (if she didn't just run through some mud, which she loves most of all). Her claws are very dark, just as they should be. She has fine body build, strong bones, wide chest, straight legs, correct angulation, well carried tail. She is majestic.
She took part in only just a few shows so far, but nontheless she already achieved the club Champion title and grade res. CACIB, Excellent 1, Very promising 1 and several titles CAJC and CAC.
Bella is very self-confident, fearless and she loves exploring new things. She has undergone our thorough socialisation programme and now it pays off. She grew up to an easy-going, loving and caring dog.
She has fully joined us in our sports activities, too. She loves canicross and obstacle running, she took part in some races and got a few great placements and achievements. She became the Champion of WSS in canicross 2022 both in women's and children's cathegories. She won the biggest night obstacle race in  the Czech Republic – Czech Dog Run Nightfall 2022, became the second vice champion of the special dogtrekking race for WSS in 2022. She has also some succeses in the junior cathegories – Extreme Dog Race 1st + 3rd place. She managed to pass the Endurance test (20 km rum + obedience test). For her life-long achievements in sports she was awarded the title Master of Endurance sports.
In Spring 2023 she  successfully passed the breeding test and we welcomed her first litter in September 2023. Some puppies available. More information here.
Titles
Club show champion
Master of Endurance sports
1st place WSS Championship in canicross 2022 (adult + child cathegory)
1st place Czech Dog Run Nightfall 2022
1st place Mushing race Břežanská stopa
1st place Extreme Dog Race Biřička 2023 (junior)
3rd place Extreme Dog Race Steeplechase 2022 (junior)
3rd place special dogtrekking race for WSS 2022
Endurance test
res. CACIB
CAC,
CAJC,
Excellent 1,
Very promising 1
Additional information
Sex
female
Height
61 cm
Teeth
full dentition, scissor bite
HD
B
ED
0/0
MDR 1
+/+ po rodičích
DM
n/n po rodičích
Bonitation code
Ia/E3,F2,J1,K(1+2+6),X(0+3)/I
Breeding licence
breeding female FCI
Offspring
Litter "K"rakens Niktel (CZ)
Pedigree
C.I.B., Multi Grand CH, Multi CH, JCh, BIS 3

AXEL Donnevara

Grand Champion CZ, Champion CZ, Champion ČMKU, Club Champion, Winner of specialty show, Regional winner, multi BOS/CACIB/CAC/CAJC...

BARNET Abraska

res. CAC, výborná

Blesk od Kunovského lesa

Champion

Falco of Kim's dream

REGIONAL WIN., R.CAC

ADRIANA u Panáka

Nejl.mladý plemene, CAJC, Výborná, Velmi nadějná

BEPCOCK Nubika

BOB, CAC, CAJC

Cleo z Nuslaudy

CH(CZ)CACIB,BOB

Julie Nycol Elbigi

Grand Ch CZ, Ch. CZ+SK, Club Ch., National winner

XARRIA JACKIE Donnevara

CH+JCH CZ,SK

Ares z Nového Malína

Cino Giacomo Elbigi

Alexis of White Glory

2x Res.CACIB, CAC ČMKU, BOB, Klubový champion, 2x CACIB

Nataly Cheryl Donnevara

Grand šampion ČR, Multišampion, BOB

Dragon la Blankpapilio

Grand šampion ČR, Multišampion, BOB

Genny Lee Donnevara

C.I.B., Grand šampion, Multi šampion, Junior šampion

VENDETTA od Bijelih Andela

Inter Champion, Champion of France, IPO 1, IPO V, TAN, TAT, CSAU

Ice Echo du Bois des Ternes

Multi Champion, TAN

Echo du Bois des Ternes

Champion, Nord JW 05, Fin Winner 06

Snamerto Snaomner

Dakota Van Hiemrod

Horsebo Empire

Champion DK, European Winner 04, NorduCh

Nice Of You To Come Bye Mojo

Champion DK, European Winner 04, NorduCh

Enjoy Of White Sunshine

Junior Champion of Slovenia, Karavanka winner 2017, Champion of BiH, Champion of Federation BiH, Champion of Slovenia, BIS

Naomi od Bijelih Andela

Inter Champion, Multi Champion

Yole vom Sutumer Grund

Multi Champion, TAN, CSAU, TST

I Love Boy P'tits Loups d'Amou

Multi Champion (DJ, D, DK), BH/VT

Only You vom Sutumer Grund

Junior Champion, Champion

Azra Zora vom Sutumer Grund

Multi Champion (DJ, D, DK), BH/VT

Vin Diesel of Haely's Future

Maybe Magic Lou vom Sutumer Grund