AMIGA BELLA Voracious
* 2001-10-22
† 2015-01-11
in memoriam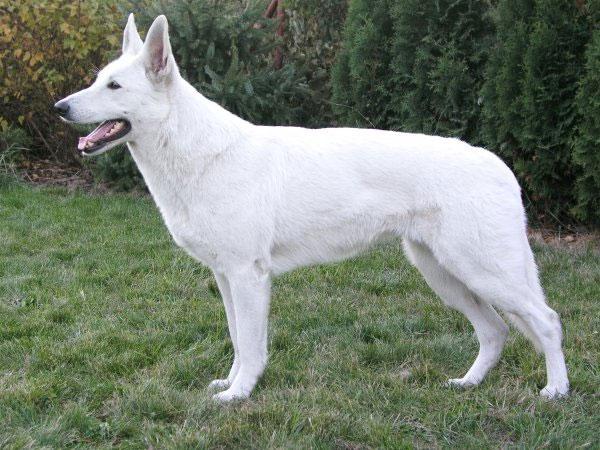 Bella was an incredible bitch, the first of our line of all White shepherds. We got her as a puppy from the former president of the Club of White hepherds (Ing. Irena Kreisingerová – Honzáková). We got her as a second female to our one-year-old German shepherd Kimi. From the very beginning, there were big differences between the two females in their characters – Kimi was more fierce and combative, while Bella was more shy and cautious. Because of the fact, that we knew there would be children running around one day, we decided that the breed of White Swiss Shepherds (at that time still known as the American-Canadian White Shepherds) is the breed for our future life.
Still as a puppy, we entered Bella to her firs dog show and the result "Very promissing 1" led us to a dog show career for her and all the other dogs later. She was an excellent show dog and achieved many great awards and championships of several countries. It was a pleasure to take part in shows with her. She was very cooperative and during judging she could be left standing alone in the ring without even a leash and we could just stand in front of her giving her orders from the distance.
When she was adult, she became a brood bitch and we mated her with a male Akim King z Ranče Montara. From this couple we had 4 male puppies and one female. Bella turned out to be a very good mother, she looked after all her puppies with utmost love and care. We are very happy that one of her male puppies Angello Corse later continued very successfully in her show career and achieved the historical 7th place in the list of TOP show dogs in the Club of white shepherds.
At home Bella knew how to annoy us too. Together with the German shepherd female they loved gardening. During one weekend they were able to harvest all 60 ripe cucumbers or they raided the new rose bed and they put all the roses in front of our door to show us that they do not want anything like this on THEIR garden. Even though they could be this naughty, they were still our darlings and we always forgave them everything very soon. At the age of lovely 13 she crossed the bridge to meet all her white friends there.
Titles
Multi Champion (CZ, SK, D),
Junior Champion CZ,
Club Champion,
National Winner,
BOB,
multi CACIB,
multi CAC,
multi CAJC
Pedigree
CZ CH, CLUB CH.

Basko Filluv Dvur

CZCH,SKCH,HRCH

Cevil of Majestics

JCH

King vom Wolfsgehege

Sherman's Astor

DCH

Hoofprint Blondie

Ernesta Gioia vom Werntal

Basko of the white Stars

Bonny vom Fichtenwald

CZCH,KCH,BOB

Amazon von Feher Arany

JSG

Balou-Aramis of White Mountain Austria

Bergeron's Patton

Carmen-Babsy von Schloß Felsberg

Asta vom Tiroler Landl

Flint vom Wolfsgehege

Ambra-Lady vom Schmollerhof

Arka Del'Nicol Miraja

NLSG,CAC

Amcar

Winterpalace's White Masterpiece

Sandyhill's Czar von Winterpalace

Winterpalace's Cleopatra

Blanca of the First Choice

Bergeron's Patton

Hoofprint Utopia

Hesy von Savaria

BUNDJGSIGEGER

Boy - II - Check von Ronanke

BSG

Sherman's Wes-Greif

Natacha-Cole von Williams

Nataly-Vroni von Ronanke

BSG

Olaf-Kevin von Ronanke

Eika-Rhonda vom Gehege von der Löwenburg Monreal