AMIGA ANGEL Niktel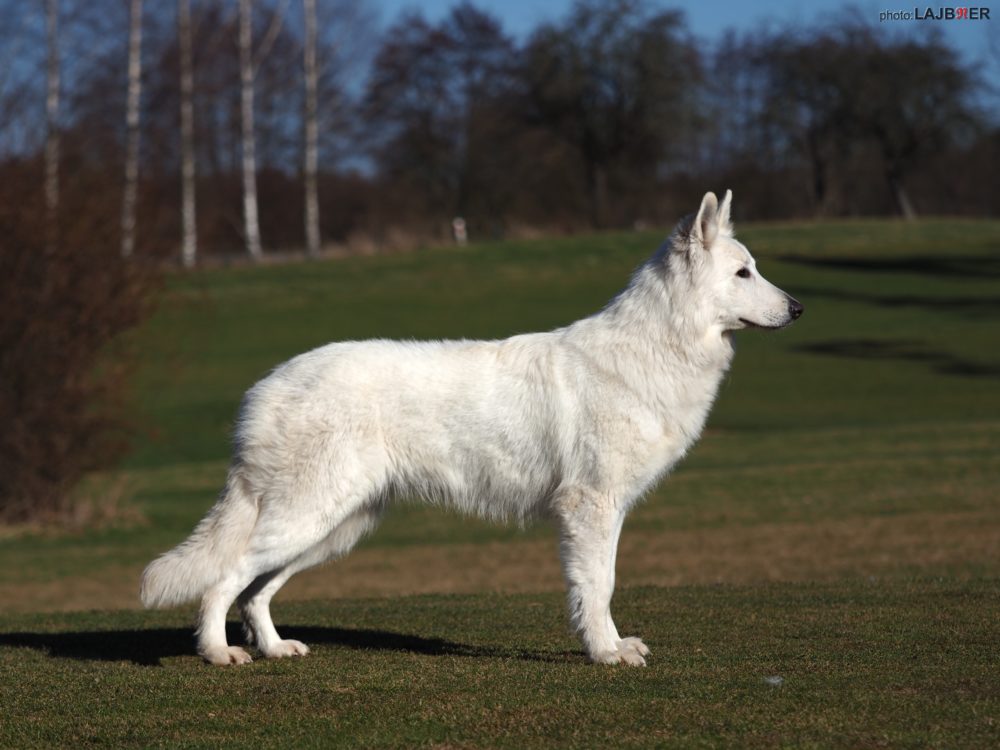 A female from our own breeding. Born 10/16/2020 in the litter of 8 Angels after FROZEN and AXEL. She was one of the calmest in the litter and she charmed us so much, that she stayed at home with us forever. Until today Amiga is very calm and balanced, she would do anything we want her to, including less pleasant things like being examined or vaccinated by the vet. Without fear or any signs of stress or the urge to escape. She just calmly waits until it's over.
Amiga is very well socialised, she took part in our extensive socialisation programme with many stages, as well as all the other puppies from our kennel. Here she got a great base for her easy-going character. Of course we still continue with showing her new things and reinforcing the old abilities.
Even though she is basically very calm, it is only until she puts on her canicross harness. From that moment she starts being very active, runs like mad and enjoys the speed and adrenaline. She didn't have to learn it, it came to her quite naturally and she quickly understood what she is supposed to do. Of course she also has good predispositions to be a good sports dog after her mother and father, who both belong to our best canicrossers. She took part in quite a lot of races already and did very well. She became the champion of canicross for WSS 2022, vice champion of dogtrekking in 2022 and won the biggest night obstacle race in CZ – Czech Dog Run Nightfall as well as another night race Extreme Dog Race. In 2022 she passed the endurance test (20 km run + obedience test).
Since very young she already took part in a few dog shows. She was awarded several times Very promising 1 and Best Baby.
In May 2021 she successfully passed the youth check.
Titles
Endurance test
Champion of canicross for WSS 2022
Vice Champion in Dogtrekking 2022
1st place Czech Dog Run Nightfall 2022
1st place Extreme Dog Race night 2022
Very promising 1,
Best Baby
Additional information
| | |
| --- | --- |
| Sex | female |
| Height | 58 cm |
| Teeth | full dentition |
| HD | A |
| ED | 0/0 |
| MDR 1 | +/+ po rodičích |
| Breeding licence | youth check passed |
Pedigree
C.I.B., Multi Grand CH, Multi CH, JCh, BIS 3

AXEL Donnevara

Grand Champion CZ, Champion CZ, Champion ČMKU, Club Champion, Winner of specialty show, Regional winner, multi BOS/CACIB/CAC/CAJC...

BARNET Abraska

res. CAC, výborná

Blesk od Kunovského lesa

Champion

Falco of Kim's dream

REGIONAL WIN., R.CAC

ADRIANA u Panáka

Nejl.mladý plemene, CAJC, Výborná, Velmi nadějná

BEPCOCK Nubika

BOB, CAC, CAJC

Cleo z Nuslaudy

CH(CZ)CACIB,BOB

Julie Nycol Elbigi

Grand Ch CZ, Ch. CZ+SK, Club Ch., National winner

XARRIA JACKIE Donnevara

CH+JCH CZ,SK

Ares z Nového Malína

Cino Giacomo Elbigi

Alexis of White Glory

2x Res.CACIB, CAC ČMKU, BOB, Klubový champion, 2x CACIB

Nataly Cheryl Donnevara

Grand šampion ČR, Multišampion, BOB

Dragon la Blankpapilio

Grand šampion ČR, Multišampion, BOB

Genny Lee Donnevara

C.I.B., Multi Grand šampion, Národní vítěz

FROZEN of Trebons Berger Blanc

C.I.B., Multi Ch, Hungarian Club Champion

Tom Jones Ice Lilien

Juan of Skah Dakota

Born to Win White Dante

JW-W05

Ezira-Shideezh of Skah Dakota

C.I.B., JBIS, JCh SRB

Lilien-Dragonwings

Vonder von Diamond

Rena

Multi Ch, Nordic Winner 2016, JCh, BISS3, Club Champion

Jam of Trebons Berger Blanc

WW08, WW11, ES Ch

Horsebo U2

Al-Pacino of Haely's Future

DK Ch, EU W05, NORDUCH

Enjoy Of White Sunshine

GI Ch

Galilea of Trebons Berger Blanc

Horsebo One

Eur Ch 09

Class Apart of Trebons Berger Blanc