Litter winter 2019/2020 – NIKTEL
* winter 2019-2020
our own puppies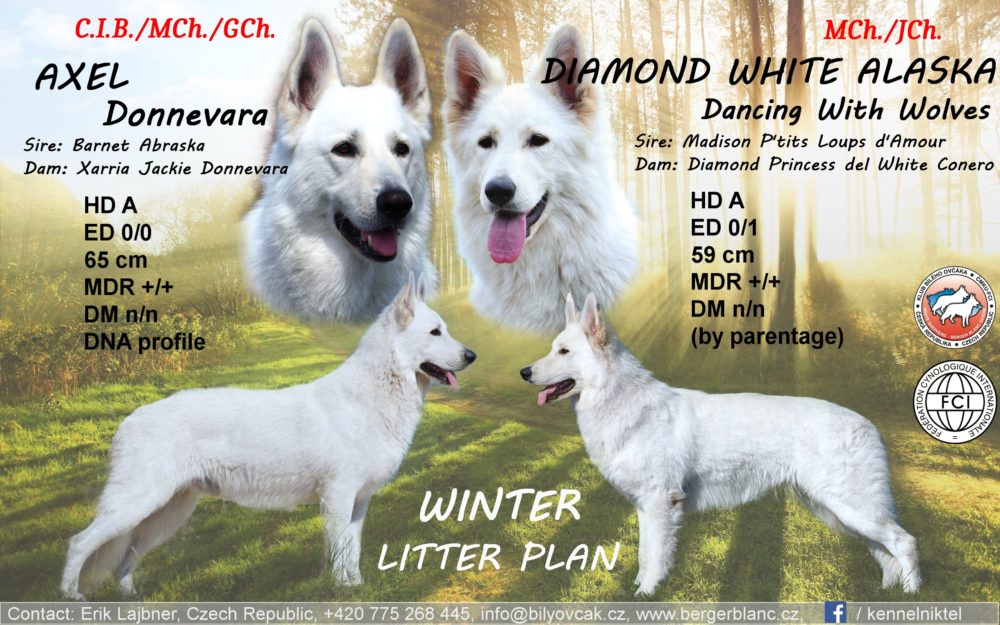 For the end of the year 2019/beginning of 2020 we are planning a mating of our own dogs – lovely DIAMOND and gorgeous AXEL.
This planned mating will be a very extraordinary combination of two very high quality and show and sport successful dogs. They match each other perfectly so if everything goes well, we expect lovely, high quality and strong puppies with great pigmentation and character, both middle length coat as well as long coated. They will have good predisposition again for dogshows and dog sports. Of course we would therefore prefer, if their progeny used this potential and continued with dog show career or were active in any kind of dog sports/activities (canistherapy, obedience, canicross, agility, rescue work…).
Axel is our own stud dog with middle length coat. He has the best possible health results, strong body build and good pigmentation. At this moment he is one of the most successful White Swiss Shepherds in the Czech Republic, in regard to shows or endurance sports. He is a national champion and Grang Champion of many countries, the Czech club Champion and Grand Champion and also the Interchampion (C.I.B.). He is an active sports dog, he regularly does canicross and takes part in obstacle races, where he also achieved many awards.
Daimee (future mother) is a 2-year-old long-coated female who went through the health tests in September 2019 and got her breeding licence, all with very good results. This will be her first litter. She has perfect character – she is loyal, devoted, calm and also very active and strenuous. She has exceptionally strong pigmentation, noble head and elegant body. Her most valuable show titles are the Grand Championships of many countries as well as the Czech club, or her triumph in the yearlong competition for show dogs "Open Slovakia Dog Cup 2018" (the most show successful WSS in Slovakia in 2018). She can be also proud of her title "The most hard working WSS in endurance sports 2018", which is granted by the Czech WSS club to the most successful dog in the field of endurance sports. She has also fulfilled the conditions to be granted the title "Master of endurance sports" for her life-long successes in canicross.
She both parents have good predispositions for dog shows and sports.
We breed only on champions, so this litter will not be an exception. You can read more about both dogs on their personal pages here on our web site (click on their names in the pedigree below). You can also find many photos of them and their acheivements in their photo galleries.
Health results of the Sire: HD A, ED 0/0, MDR1 +/+, DM n/n, full dentition, scissor bite, 65 cm
Health results of the Dam: HD A, ED 0/1, MDR1 +/+, DM n/n (by parentage), full dentition, scissor bite, 59 cm
There is 0 % congeniality between the Axel and Diamond. The puppies will have FCI pedigree with 3 full generations.They will go to the new families vaccinated, dewormed, chipped and well socialised. They will get a starter puppy packet with dog food, which they will be used to, for the first days in the new homes. The puppy will be accomanied with a Pet passport.
Pedigree
C.I.B. - Interchampion Grand Champion of Slovakia Champion of Czech Republic Champion of Slovakia Champion of Lithuania Champion of Bosnia and Herzegovina Champion of Croatia Champion of Serbia Junior champion CZ Junior champion SK Club grand champion Club champion Best show dog in CZ - 3rd place (2016) Open Slovakia Dog Cup 2017 - 2. place National winner Regional winner Winner of Mladá Boleslav Youth national winner SK BIS 3 BIG 1 BOB BOS CACIB res. CACIB multi CAC/CWC multi CAJC

Grand Champion CZ, Champion CZ, Champion ČMKU, Club Champion, Winner of specialty show, Regional winner, multi BOS/CACIB/CAC/CAJC...

BARNET Abraska

res. CAC

Blesk od Kunovského lesa

CH

Falco of Kim's dream

REGIONAL WIN., R.CAC

ADRIANA u Panáka

Bepcock Nubika

BOB, CAC, CAJC

Cleo z Nuslaudy

CH(CZ)CACIB,BOB

Julie Nycol Elbigi

Grand Ch CZ, Ch. CZ+SK, Club Ch., National winner

XARRIA JACKIE Donnevara

CH+JCH CZ,SK

Ares z Nového Malína

Cino Giacomo Elbigi

Alexis of White Glory

Nataly Cheryl Donnevara

MULTICHAMP, BIS

Dragon la Blankpapilio

CZ + SK CH

Genny Lee Donnevara

Grand Champion Slovakia Grand Champion Bosnia and Herzegovina Grand Champion Kosovo Czech Club Grand Champion Champion Slovakia Champion Lithuania Champion Serbia Champion Bosnia and Herzegovina Champion Kosovo Champion Montenegro Czech Club Champion Junior Champion Slovakia Junior Champion Lithuania Open Slovakia Dog Cup 2018 - 1st place (breed winner) BOG Junior BIG 1 (Best in Group) BOB Junior BOB multi CACIB/CAC/CAJC Child and dog, 3-9 years - 1. place The best WSS in endurance sports 2018

Grand Ch BG, Multi CH (Balkan, LT, BG, RO, PL), JCh PL

MADISON P'tits Loups d'Amour

Multi CH (DE, CZ, FR, DK, LU), Multi JCh, TAN FH2

Juan Aiko P'tits Loups d'Amour

Juan of Skah Dakota

Chérie Perly Vom Sutumer Grund

Hangun P'tits Loups d'Amour

CAC

Lothians Vencer Kann Schimmelpfeng

Angun White Viper du Bois des Ternes

CH HU, Multi JCh (PL, BG, SRB, HR, Balkan), Grand JCh BG, Poland club winner 2017

DIAMOND PRINCESS del White Conero

CH IT, CH Repro

Bacco di Casa Rovai

CH IT GPE

Quai Yukon vom Sutumer Grund

True Love of White Wolves Home

Multi CH, JCh, JTopdog, TANC, BH

Rosehill Duchesse de Brabant

EST JW06, Balt CH

Born to Win White Angel

Coolabah Glamour Girl Mist