Cancelled – Litter spring 2019 – White of The Acrtic
* April 2019
breeding with our stud dog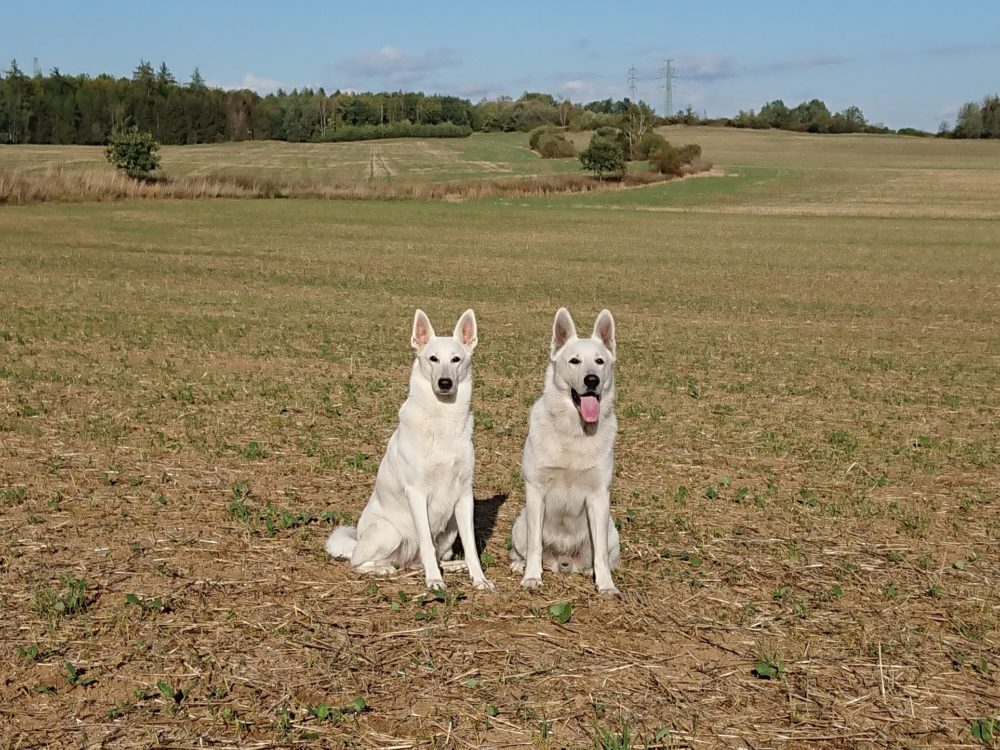 For February 2019 we planned a mating with our stud dog Axel and a champion female from Germany – Gracie Elayne of the White Heaven. It should have been litter B in the kennel "White of the Arctic" in Germany.
Elayne is a very successful female in dog shows, she is a junior champion and national and international champion of Germany. The health results of both parents are perfect: HD A, ED 0/0, MDR1 +/+, DM n/n, DNA profile. However, it came out, that Elayne is not registered in a stud book acknowledged by the International kinology federation FCI, which means that this mating is not possible. International breeding rules of the FCI as well as the rules for breeding of ČMKU strictly ban mating of individuals which are not both registered under FCI.
We are very sad, that the birth of such puppies after high quality parents is being blocked just by administrative barrier. However, due to this fact, we are forced to cancell this mating. We hereby appologize to the potential interested parties of puppies from this litter, but we are obliged to follow and respect these breeding rules.
Pedigree
C.I.B. - Interchampion Grand Champion of Slovakia Champion of Czech Republic Champion of Slovakia Champion of Lithuania Champion of Bosnia and Herzegovina Champion of Croatia Champion of Serbia Junior champion CZ Junior champion SK Club grand champion Club champion Best show dog in CZ - 3rd place (2016) Open Slovakia Dog Cup 2017 - 2. place National winner Regional winner Winner of Mladá Boleslav Youth national winner SK BIS 3 BIG 1 BOB BOS CACIB res. CACIB multi CAC/CWC multi CAJC

Grand Champion CZ, Champion CZ, Champion ČMKU, Club Champion, Winner of specialty show, Regional winner, multi BOS/CACIB/CAC/CAJC...

BARNET Abraska

res. CAC

Blesk od Kunovského lesa

CH

Falco of Kim's dream

REGIONAL WIN., R.CAC

ADRIANA u Panáka

Bepcock Nubika

BOB, CAC, CAJC

Cleo z Nuslaudy

CH(CZ)CACIB,BOB

Julie Nycol Elbigi

Grand Ch CZ, Ch. CZ+SK, Club Ch., National winner

XARRIA JACKIE Donnevara

CH+JCH CZ,SK

Ares z Nového Malína

Cino Giacomo Elbigi

Alexis of White Glory

Nataly Cheryl Donnevara

MULTICHAMP, BIS

Dragon la Blankpapilio

CZ + SK CH

Genny Lee Donnevara

International champion DE, Champion DE, Junior Champion DE

Gracie Elayne of the White Heaven

WW 2014, Champion, Austria winner 2013, Austria Master Cup Winner 2014

Cyrill White of Sunshine

Diabolo von der Wittingauer Rasselbande

Banshee Boy vom Hause Zenz

Binki von der Wittingauer Rasselbande

Baylis White of Sunshine

Enrique of White Sunshine

Oretta-daisy vom Weissen Wächter

Junior Champion, Champion, JWW 2013, JEW 2013, vice WW 2014

Franka-Shateen of The White Heaven

JEW 2008, WW 2009, 1.WS Worldcup 2008, EW 2009, WW 2010

Polarbear's Falkor of Erijane

Surefire Cayden v Zentopia

Tinkerbelle

Puppy Champion, Junior Champion, Europa Champion, Honor Champion

Evita from the Smooth White

Willow Wood Chester Chase

Breena